Before you begin, if your irony meter is switched on, then to avoid damage, please turn it off now. For the Society of Homeopaths have today issued a press release condemning sceptics for their 'half baked arguments and lack of understanding of research'.
The homeopaths are very angry at Simon Singh again and his 'traipsing around the media studios' talking about how the government are to review if doctors will be allowed to prescribe homeopathy on the NHS. (For example, see here, here and here where you can see Simon debating with professional homeopath, the Medical Jester to the Court of Queen Elizabeth II, Dr Peter Fisher.)
The NHS operates a 'blacklist' of items that will not be reimbursed if prescribed. Any reasonable evaluation of the criteria for inclusion on the blacklist would conclude that homeopathic sugar pills should be in that list. The Department of Health was challenged by the Good Thinking Society to include them and the government has agreed to consult on the issue.
The Society of Homeopaths are hopping mad. Quite why is not immediately obvious. The Society represents non-medically qualified homeopaths. Their customers have to pay for the inevitable sugar pills they are prescribed and there is no reimbursement. Also, homeopathic sugar pills are very cheap. Even if you were prescribed homeopathy on the NHS, most patients would have to contribute a fixed fee of £8.20 per item which is probably only slightly more than buying a tub of sugar pills yourself. Why would you want to pay the prescription charge?
As such, homeopaths cannot be mad at the expected cost implications for their customers. This is a symbolic issue. That the NHS is prepared to pay for homeopathy gives the absurd treatment a status it does not deserve. This respect is traded on at all levels by homeopaths. For example, the Society of Homeopaths are able to claim they represent a health profession, and thus are able to qualify for Professional Standards Authority accreditation, because the NHS recognises homeopathy as a reimbursable health treatment for prescriptions. The Society then stand not lose money as such, but prestige and hard-fought for recognition by government and regulators.
For sceptics and critics like me, I am not necessarily too concerned about how much is spent by the NHS on homeopathy. It is a relatively small amount, but still enough to pay for many real nurses and treatments and as such it ought to be a simple decision for it to go. But, I too worry that NHS homeopathy is used to promote a quack trade that is out of control. UK homeopaths still are universally behind their colleagues that travel to Africa to push their sugar pills in people with HIV, malaria and Ebola. For example, Noam Bar, an active member of the Society of Homeopaths and co-founder of the London deli-chain Ottolenghi, was using the restaurant's profits to fund homeopaths in East Africa to treat HIV. Whilst UK homeopaths support their members doing this, they can expect to be in the spotlight.
These concerns about homeopaths blithely treating people with serious illness, especially in countries without inadequate health provision, have been expressed for many years and ignored by the trade. Indeed, when I first raised concerns on this blog, the Society of Homeopaths set their lawyers on me and threatened to sue me for libel.
I asked at the end of my post,
It amazes me that to add to all the list of ills and injustices that our rich nations impose on the poor of the world, we have to add the widespread export of our bourgeois and lethal healing fantasies. To make a strong point: if we can introduce laws that allow the arrest of sex tourists on their return to the UK, can we not charge people who travel to Africa to indulge their dangerous healing delusions?

At the very least, we could expect the Society of Homeopaths to try to stamp out this wicked practice? Could we?
Instead of addressing this serious concern, the Society engaged their lawyers and threatened me. As Ben Goldacre said in the Guardian, "you'd think they'd have the dignity to engage with that criticism, rather than ignoring and suppressing it."
Homeopaths have failed to do so. Instead, they have built a PR machine to try to shout down the concerns.
Here is how.
4Homeopathy
Back in 2011, there was growing disgruntlement that the critics of homeopathy were able to place articles in the media and make their voice heard in a way that the various homeopath groups were not able to effectively respond to. Some media appearances by homeopaths had been disastrous. The House of Commons had produced a devastating report the previous year that had concluded that there was no merit in homeopathy and the NHS should not fund it. On the ground, NHS homeopathy was dying. Tunbridge Wells Homeopathic hospital had closed a few years before. The Royal London Homeopathic Hospital was forced to move away from homeopathy and change its name. And the Advertising Standards Authority, after complaints from sceptics, was starting to clamp down on the claims homeopaths made in their advertising.
A meeting between various representatives of homeopathy organisations decided to form a group that could present a united front against these critics. Thus, 4Homeopathy was born. You will not find a website for this organisation, despite significant funding and resources. Its aim is to create a coordinated and unified effort from existing members organisations, pharmacies, course providers, vets, doctors and homeopathic charities. It was to be an 'invisible' lobby group that would ensure media representation was 'on message' and more in control. To this end, they have been quite successful. In response to the adverse media coverage this week, you will not have seen many random homeopaths popping up and embarrassing themselves in the media. As the Society's press release says, their response is to be considered.
It is worth noting that this is not just the reckless amateur homeopathic physicians that are behind this. Crystal Sumner and Helen Beaumont the Faculty of Homeopathy represent medical doctors. John Morgan and John Lee from British Association of Homeopathic Manufacturers represent Ainsworth's, Nelsons and Weleda: the people who make the sugar pills. Jane Keogh is the President of the The British Association of Homeopathic Veterinary Surgeons. The professional homeopaths are not the 'respectable' wing of homeopathy: they have thrown their lot in with the rabble of untrained, anti-vaccine, pro-malaria treatment homeopaths.
A New Image
One of the first things the group did was commission a very professional website: findahomeopath. This was designed to allow the public to access one place where they could search for a homeopath registered with one of the trade groups that maintain lists: the Society of Homeopaths, the Alliance of Registered Homeopaths and the Homeopathic Medical Association. The site has been associated with professional media campaigns involving a number of 'celebrities', politicians and athletes that apparently believe in homeopathy. People like Michelle Collins, Peter Hain and Jo Wood have been persuaded to lend their image to the campaign in an expensive looking campaign.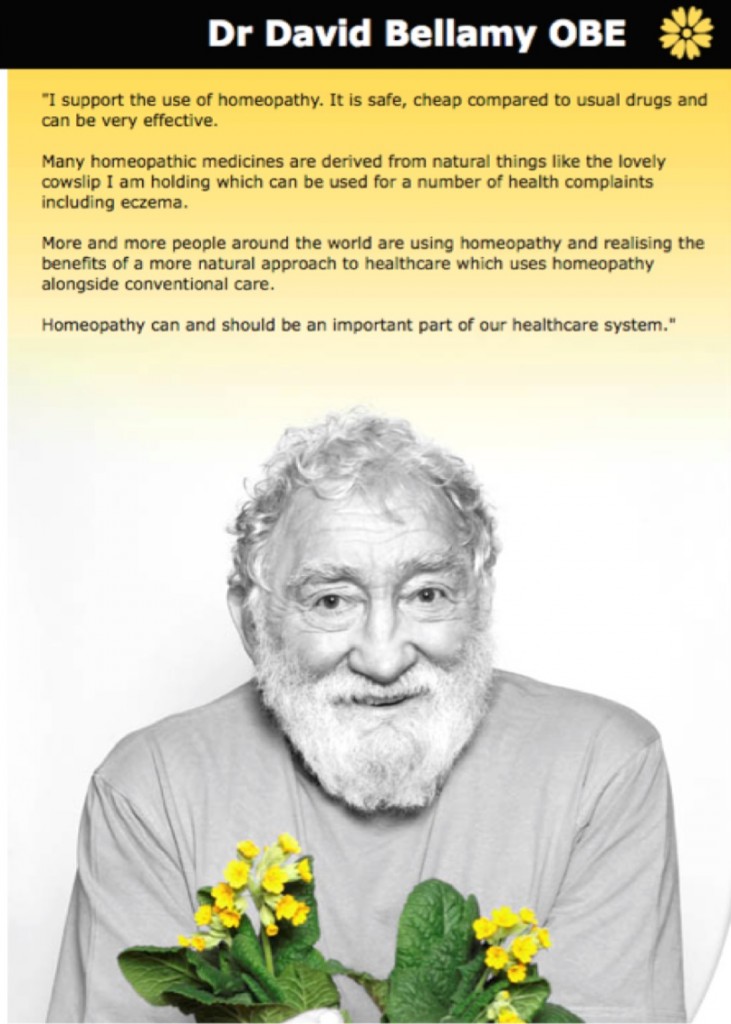 In addition, cartoon characters were created, the Snooks, who apparently live off homeopathic sugar pills and try to persuade others why this is a good idea. Branding consultants were hired to create a new universal logo (as depicted above.)
The celebrity campaigns focussed on the simple idea of 'homeopathy worked for me'. No attempt to present evidence – just personal testimonials based on anecdote and celebrity.
Engagement with Authorities
As well as trying to reach the public, 4Homeopathy have been trying to engage regulators and government with a unified message. The MHRA has been approached when it was feared that new regulations could make the dispensing on homeopathy by amateurs problematic. The biggest bugbear for the homeopaths though has been the ASA. The Society of Homeopathy has a code of ethics that is clear that homeopaths should abide by the CAP code as enforced by the ASA. Unfortunately, the Advertising body is unambiguous that they do not consider homeopathy effective and that claims that it is would be in breach of the code. The Society has been left between a rock and a hard place – its members demanding total freedom to make any claim that enters their quack imagination and their desire to be seen as good regulators by the authorities. Despite talks, no breakthrough by the homeopaths has been made and the noose is getting tighter on this one.
Amazingly, the homeopaths also set up another glossy web site that was supposed to counter the House of Commons report into homeopathy. Their 'Evidence Check' web site (http://www.homeopathyevidencecheck.org/) contains the script that homeopaths are supposed to follow when shouting loudly about how terrible this all was. Given that Scotland is now the last bastion of NHS homeopathy in the UK, lobbying the Scottish parliament has too been high on the agenda in order to try to preserve the last significant NHS homeopathy clinic at Gartnavel in Glasgow.
PR
One of the original reasons for setting up 4homeopathy was concern that homeopaths were appearing in the media without a good understanding of how the media works and how to engage with it. So, training for specific individuals was commissioned so that they could become more savvy in their approach and stick to a consistent message that might resonate with the public. A toolkit for homeopathic spokespeople was set up so that it was easy to prepare for media engagements.
For those of you who engage with homeopaths in the media, it might be worth knowing what their strategy is.
They concentrate of four main messages:
Homeopathy works
There is overwhelming evidence
Millions use it
Homeopathy is cost effective.
Each of these is easily dismissed with a little preparation.
The homeopaths who did appear on the media this week tended to follow the toolkit approach. Strong messages that there is plenty of evidence for homeopathy came across despite the fact that this is simply not true. Cherry picked studies dominated. Denial of the absurd dilutions also happened with statements designed to obfuscate that remedies could contain actual material.
Obfuscation, cherry picking and downright falsity are much harder to defend against in the moment during interviews. Carefull preparation is required. Fortunately, a copy of the toolkit has come into my hands which may help you if you are in this position.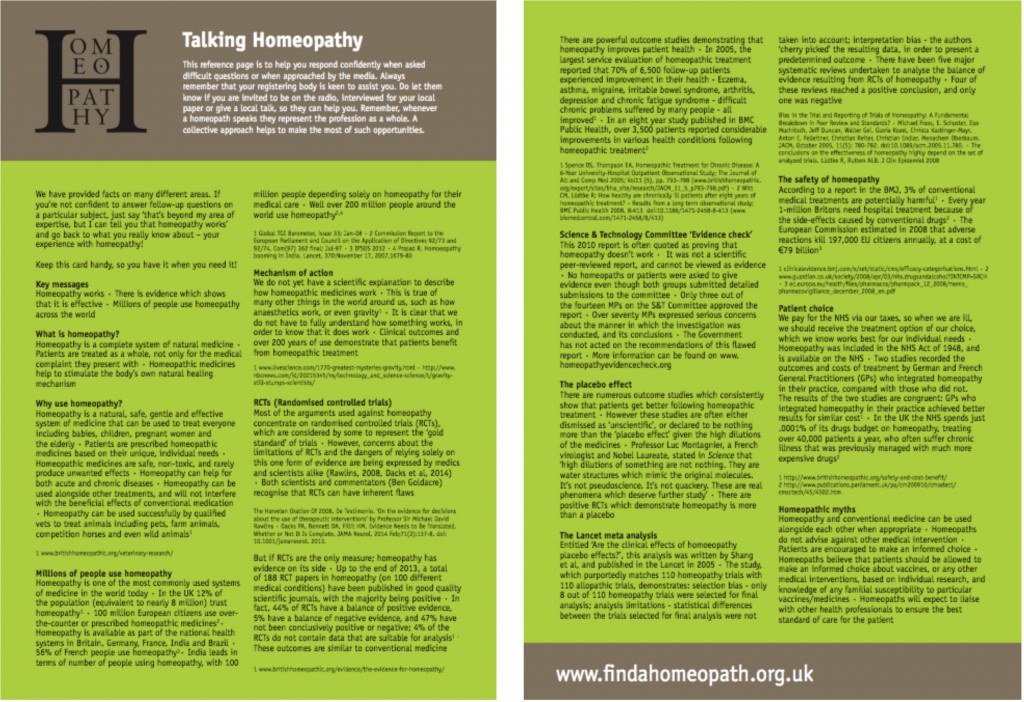 One tactic that has been suggested by Hampshire Skeptics is just to do what Michael Marshal did on the BBC and just give a 'you're talking bullshit face'.

Funding
The Society of Homeopaths press release accuses Simon Singh and the Good Thinking Society of having 'opaque funding' despite the GTS making their funding sources quite clear on their website. If you have switched your irony meters back, now is the time once again to close them down and put them in a safe place.
4Homeopathy makes no public statements about who they are and how they are funded. As such it is not clear, but I understand a lot of the work is done through good will. But not all.
Simon Singh is constantly accused of being a pharma shill – which is obviously untrue as anyone who knows him will tell you. Most recently, the quack rag What Doctors Don't Tell You has accused him of being a shill for Coca Cola. Good grief.
4Homeopathy has received significant donations from the world's largest homeopathic pharmaceutical company, Boiron. French based Boiron is a $1.5Billion global company and dominates the business of selling sugar pills as medicine. £30,000 from Boiron helped fund a study from Manchester-based PR firm Mustard Research to tell them the bleedin' obvious that homeopathy tended to be used by older females and to ignore people who reject the ideas of homeopathy.
Other funding comes from the member organisations of 4Homeopathy, homeopath donations and from flogging a few t-shirts on the FindAHomeopath web site.
Effects?
Clearly, homeopaths have been quite disciplined over the last few years. They do not engage with sceptics. Their press releases have been few and far between – no more random outbursts of homeopathic anger. Their priorities have been on engaging with various authorities to ensure they are protected. Their engagements with the public though look very poor. Their social media strategy is a shambles, with their #homeopathyhour being nothing more than a small bubble with no engagement  with the groups they have identified they need to talk to. The mainstream media pays very little attention to them and even the Guardian has recently written an editorial calling for a ban of this quackery on the NHS.
One can judge that the public battle about homeopathy is largely lost due to the fact that it is a regular butt of comedians' jokes. When you are ridiculed by mainstream comedians then maybe the mainstream is no longer a place you can live in. Your natural place is now the natural health food shop in that quirky market town next to the crystal healers and the pewter dragon and black candle sales table. You will be happy here.
The battle within the NHS is now largely lost. Their are no facilities in the NHS that can call themselves homeopathic hospitals anymore. They have either hidden behind the shield of calling themselves 'Integrated Health' centres and focussed on other alternative medicines or they have been hived off to private health initiatives with the hope that local CCGs will continue to contract to them. This is looking rather forlorn with most CCGs having now declared they will no longer make such contracts.
I have no idea how often their find-a-homeopath web site is used. I suspect that most people inclined to consult a homeopath do it through word-of-mouth and personal knowledge. I see little evidence that homeopaths have tried to measure their effectiveness in any of these endeavours.
What Next?
If I was to offer some friendly words of advice to people that have been accused of harming people through useless treatments and misleading people about real medicine then I would suggest a PR campaign was the most dishonest thing they could do. The only answer is to directly engage with that criticism. People's health and lives are at risk here.  What other moral response is there?
Homeopaths could do themselves a lot of favours very quickly by doing a few simple things:
Giving up on publicly funded NHS homeopathy. It will not harm most amateur homeopaths and may even do them so good. But whilst there is such as easy target for an abuse of public funding, focus on their activities is likely to be intense
Give up on the homeopaths in Africa and elsewhere who want to use sugar pills to treat serious disease like HIV and malaria. Stop funding them and going over there to help. Homeopaths are unusual in their desire to proselytize and send missionaries to tell people about their quackery. They put people's lives at risk and is a central reason why so much focus is on them.
Practice within the limitations of the accepted evidence base. And by that, I do not mean the accepted evidence base within homeopathic circles. If you cannot convince others of your evidence you should not try to convince yourself. This will mean not making claims to treat illness. But this does not mean you cannot practice. If you just talked about 'wellness' and 'support' no-one would notice you and you could practice in peace. And you probably would be doing as much good as you are doing now but without the risk of really harming your customers. Other alternative medicines largely do this. So can you.
I am amazed the homeopaths have not worked this out.
In the meantime, effort is being put into more youtube videos. You may like David Tredinnick talking about the Glastonbury 'Conference'.
I think he means 'Festival'. You had to be there, man.