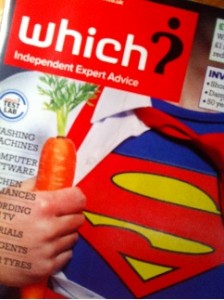 Having just had a baby girl and moving house, I thought I would subscribe to Which? magazine as I knew I needed to make a few critical spends over the coming months. Which? is a consumer rights organisation that publishes reports and reviews into consumer issues.
Online reviews of products and services can often be misleading as you do not know anything about the reviewers motives and depth of experiences. More often than not, I find myself wondering if reviews say more about the reviewer than the product. So, it's good to see independent consumer organisations such as Which? systematically review and rate competing products.
One thing did strike me though, and that is that Which? tend not to focus on dodgy health product claims. I had put this down to simple commercial reasons. When you write a bad review of a bogus toaster which has a tendency to burst into flames, or a pushchair that happily chops off babies fingers, you are unlikely to get cancelled subscriptions from people who own those products. But those who have bought into the cult-like beliefs of much alternative medicine are going to get angry, upset and believe Which? is now in cahoots with Big Pharma.
So, I am very pleased to see that Which? have done some great investigative journalism into nutritionists. The results are shocking.
Well, they will not be shocking to you if you have been reading stuff like Ben Goldacre's Bad Science.
Nutritional therapy is a form of karaoke medicine. The practitioners go through all the motions of looking like they know about science, diet and health, but what they actually do is spout painful nonsense. Sometimes dangerous nonsense.
Which? sent five of their reporters undercover to pose as patients. They visited a total of 15 nutritional therapists. The reporters posed several health issues such as having breast cancer, suffering from long lasting fatigue or having problems conceiving.
Out of the 15 therapists, 6 of them gave advice that Which? scored as a 'dangerous fail'. This included advice to delay radiotherapy treatment and instead try to cure the cancer by cutting sugar out of the diet. Another advised the reporter not to report feeling unwell to their GP as they would not understand the diet they were to be placed on.
A further 8 therapists gave advice classed as a 'Fail', including offering quack diagnostic tests such as Hair Mineral Analysis and Iridology. One woman was told she could not conceive as she was suffering from a 'leathery bowel'.
Twelve of the consultations resulted in patients being sold vitamin and mineral supplements costing up to £70 per month. In general, Which? said,
Most therapists over-simplified symptoms and failed to recognise important 'red flag' symptoms requiring proper medical attention. Their medical explanations, understanding of how the body works and their knowledge of vitamins and minerals was also poor. One therapist told Mark that weight had nothing to do with type 2 diabetes and another told Helen that alcohol is not a risk-factor for breast cancer.
Out of the 15 Nutritional Therapists visited, only 1 gave 'Borderline Pass' advice.
Which? is now demanding the government properly regulate the sector. Their Executive Director, Richard Lloyd said,
We found some shocking examples of irresponsible advice given by nutritional therapists. Our research shows that not only were they a waste of money, but some of their recommendations could seriously harm people's health.

This is largely a self-regulated industry where anyone can set up and practice as a nutritional therapist, meaning there is no real protection for consumers. While the majority of the therapists Which? visited were registered with the industry body, BANT, our findings show that it is failing to police these practitioners effectively.

"Which? wants the government to take action to stop nutritional therapists putting people's health at risk.
There is a huge danger in advocating 'better regulation' for practitioners of superstitious and pseudoscientific therapists. In short, regulating nonsense just results in legitimising nonsense.
Nutritional Therapists claim to be regulated right now. BANT, the British Association for Applied Nutrition and Nutritional Therapy, claims to have a code of conduct and regulate practitioners. BANT did not respond to Which? when challenged about these results. That is, I believe, because Nutritionists see this type of advice as good advice. Nutritional Therapists have cult-like and conspiratorial beliefs that mean they think mainstream doctors know nothing about nutrition and are covering up 'natural' health cures to protect pharmaceutical company interests.
And while they look to the money obsessed evils of Big Pharma, BANT specifically allow kick backs from vitamin pill sales to their customers. No wonder this survey saw so many being sold.
Of course, there is a proper statutory regulator for those wanting to give dietary advice in a clinical setting. The Health Professions Council regulates dieticians – it is illegal to call yourself a dietician without being registered. In contrast, anyone can call themselves a nutritionist regardless of training or affiliation with any so-called regulator.
Several government attempts have already been tried to create regulators for quack therapies. Ofquack, or the Complementary and Natural Healthcare Council, was set up by Prince Charles and funded by the Department of Health. The CNHC have been limping along for years now and have failed to persuade many nutritionists to be their regulator.
The CNHC (http://www.ofquack.org.uk)  have also been a complete failure in understanding how they need to protect the public. They have decided that they cannot make their registrants to stop making misleading claims. They also appear to have a problem finding fault in their members if they have been trained to believe their own misleading claims. As such, Ofquack are incapable of protecting the public from the sort of problems raised by Which? Nutritionists are trained to believe all sorts of nonsense about diet. Regulating them without considering whether what they believe to be true is giving them a fig leaf. Clearly any form of voluntary regulation would fail.
But what of statutory regulation? That has problems too. Chiropractors have also been statutorily regulated. But as another placebo therapy, regulation has not stopped them making very serious bogus claims over the years. It was only when the chiropractors decided to sue Simon Singh for pointing this out that all this came to public attention. Since then, the British Chiropractic Association has been humiliated and their regulator, the General Chiropractic Council exposed as a chocolate teapot.
Such situations are bound to occur when you attempt to regulate nonsense. You don't stop the nonsense being believed and practiced, and any attempt to clear it out would quickly result in the end of the regulator.
So what to do? It is worth pointing out the vast gulf between Dieticians and Nutritionists. Should statutory regulation of some sort be placed over nutritionists, we would essentially have two regulators for people who wish to offer healthy eating advice to the public based on very different worldviews and attitudes to evidence.
I feel it worth repeating some words I wrote several years ago when I was writing about Patrick Holford.
So, we have two worlds in the UK. Worlds with very different views on how food and diet affects our health and how we can manipulate diet to improve our health.

The first world is typically populated by scientists and dieticians. They take an evidence-based approach to understanding food and are cautious in coming to conclusion where there is insufficient data. They work in clinical practice, in hospitals, universities and on an NHS wage. They advise on good, affordable and understandable diets, and treat patients who are sick and need careful advice on their road back to health. They concentrate on the overall diet and not on an obsession with nutrients. They are regulated under law, have transparent and meaningful governing bodies. They are accountable for their actions and can be struck off if they fail in their duties. They promote their work in science journals. They share their canteens with nurses, surgeons, medical students and doctors.

The second world is populated by lawyers, accountants and journalists that have undertaken a career change. Younger students enter independent nutrition colleges and need little scientific training to do so. If they don't get training, they add 'Dr' to their name anyway and get a contact with Channel 4. They selectively pick evidence that suits their alternative philosophies and learn to be suspicious, if not downright hostile, to science and medicine. They work in private practice and sell food supplements, questionable allergy tests and hair mineral analyses. They confuse allergy and intolerance, and fetish on vitamins and minerals, whilst advising clients to remove whole food groups from their diets. They sell their business to the worried well and poke around in their poo. They are not statutorily regulated and so lack that accountability. They promote their work in newspapers and magazines. They share their Richmond bistro with reflexologists, personal trainers, homeopaths and TV producers.
One way out would be to include the words 'Nutritionist' or 'Nutritional Therapist' in exactly the same legislation as exists for Dieticians. Nutritionists would require the same education, standards of professionalism and approach to evidence. This would essentially immediately criminalise the second  group and ensure the public are never confused about the two groups.
Such a move would be very heavily resisted by the nutritionists of course. They would not want to abandon their unevidenced and whacky beliefs about vitamin pills. And I suspect, the government would have no appetite to increase the burden of legislation on them.
I fear, that although this Which? report has been very good, it may well hasten government action towards mere legitimisation of dangerous health beliefs through ill thought through regulation. And that will not be in consumers' interests.
*************************************************************************************************
David Colquhoun, who helped advise Which? on this report, has also written about their findings here.