Right, let's get serious. It's the end of Homeopathy Awareness Week and enough of the jokes. You might be surprised, but actually, I don't have too big a thing against homeopathy. If people want to pop into Boots the Quack and buy a tub of sugar pills and give one to little Timmy when he falls off his bike with a 'there, there' and a kiss on the forehead, then I would be really Mr Grumpy Spoil-Sport to object. If someone with a longstanding health complaint wants to spend an hour chatting to a homeopath and get lots of fuss and attention in a way that the NHS could never provide then I hope it turns out to be a valuable talking therapy session. After all, its just sugar pills and the placebo effect and, as we are constantly reminded, there are no side-effects. But mainly because there are no effects too. Fine. All good and dandy.
It's not the pills that upset me. Its the dangerously deluded thinking that goes with it, the rejection of rational ways of understanding health, and the refusal to hold any sort of meaningful debate about what role complementary treatment might really play. Head in the sand. Three Wise Monkeys. It is this lack of self-appraisal and the refusal to draw boundaries that is scary. We saw this earlier with the Sense-About-Science and Simon Singh sting on homeopaths where the researchers asked several homeopaths for anti-malarial advice and without exception, got appalling, negligent and dangerous nonsense back. The homeopaths were quite prepared to send their 'patients' into high-risk malarial areas without protection and sensible precautionary advice. That sort of consultation could easily kill. The Society of Homeopaths initial response to this situation was bizarre and frightening, essentially denying that there was an issue that needed addressing. It responded in a confusingly contradictory way later on, with a little better advice.
It is not homeopathy necessarily that is quackery. It is the homeopathists' lack of awareness of the boundaries and limits to what they do that constitutes quackery. And dangerous quackery too. Here is another way that this recklessness has manifested itself and follows on from my earlier posting on homeopathic first-aid kits.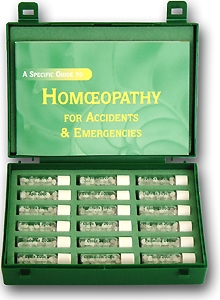 Homeopathic First Aid kits appear to drag homeopathy into an area that is far from its origins. Homeopathy has survived because it is a mostly harmless intervention for non-life threatening, self-limiting conditions, e.g. tiredness, headaches and minor aches and pains. Thus, the standard tricks of the mind, such as post hoc reasoning, misattributed placebo responses, regression to the mean, and so on, are systematically interpreted as proof of the effectiveness of the intervention.
But get into a First Aid situation and, by definition, you are dealing with medical emergencies where the immediate course of action can have far reaching consequences. It is life or death stuff. Homeopathic First Aid kits are manufactured by 'Big Alt.Pharma' companies like Helios in the UK. I first spotted the kit being sold through a distributor that was also selling the fraudulent Q-Link pendant. Their web site said the following:
An essential first-aid remedy kit for the home, car and workplace specifically formulated to be used in even the most severe emergency and accident situations.
I was somewhat alarmed that there was serious suggestion that homeopathy was a suggested course of action in the 'most severe emergency and accident situations'. First Aiders are trained to save lives by establishing airways and circulation and preventing shock. Sugar pills have no part here. So, I wrote off to a few people to see what I could do about it.
First, the manufacturers, Helios, responded as follows:
Thank you for your e-mail and comments. We have amended the information on our web site to clarify the intended use of this kit.

Please note it is well within the scope of homoeopathy to prescribe routinely for acute injury situations as they have have well defined similar symptom pictures in most cases. Within the range of remedies in the kit there is room for differentiation for the knowledgeable prescriber, paramedic or first aider for whom this kit is designed.

As a matter of precaution we have amended the wording on our site to include:"An essential first-aid remedy kit for the home, car and workplace specifically formulated to be used by first aiders and the more experienced user of homeopathy, for accident and emergency situations that require higher potencies." The kit also comes with a comprehensive leaflet which in the introduction clearly states the following under the title of 'Safety First':"Serious injuries and illnesses should never be treated without seeking expert advice. Use your instincts and common sense; if you are worried call for help first then give the appropriate remedy whilst you are waiting for help to arrive. In cases which are less serious or urgent, if symptoms show no improvement or return always seek professional help."

I hope this allays you concerns.
Allay them? Partially. At least their web site, and their distributors' web sites, appear to have a less aggressive statement about their product. But, their belief is still that sugar pills have a role in "acute injury situations". I wonder what evidence there is for this? How do they avoid the homeopathic healing crisis that is talked about in an already critical situation? And aren't remedies supposed to 'take time to work'? Importantly, someone fiddling around in their little green box for the right 'remedy' is abdicating the prime responsibilities of the first aider. It is absurd to think there is a role in life critical situations for delusional healing fantasies.
So, I also wrote to the Society of Homeopaths. This body likes to think of itself as a professional regulatory body and surely, it would not endorse any practices within its remit that could injure patients. Surely, this is about as serious as it gets in he misuse of homeopathy.
I wrote,
Does the society endorse such products? If not, would a suitable announcement be important to alert the public that these products may not be in the best interests of injured people?
The response I got back was,
As to whether The Society of Homeopaths endorses these or any other products, the simple answer is that we do not. Our Code of Ethics &Practice states that 'no member may use their Society membership in the commercialisation of any product or remedy". We do have long standing relationships with all the homeopathic pharmacies, with a link to them from our own website. However, this does not extend to endorsing their products.

I hope this clarifies this situation for you.

With kind regards

Yours sincerely

Paula Ross

Chief Executive
So, my question about warning the public was ignored and they appear to be quite happy linking to the sites and saying you can buy first aid kits there. I found this quite alarming, so I wrote back to Paula Ross,
Application of homeopathy, or any other unnecessary intervention in 'severe emergency and accident situations', would be strictly counter to the immediate needs of the situation and could even be harmful.

So questions,

1. Is this a statement you would agree with?

2. By linking to the Helios and stating you can buy first aid kits there, are you not implicitly endorsing these products?

3. Should you agree with statement 1, should the Society be taking steps to ensure that it distances itself from such products and alerts its own members, and the public who may visit your site, that this is a dangerous and irresponsible use of homeopathy?

Surely as a recognised complementary therapy, users of homeopathy should be well aware of the boundaries of its complementarity and an emergency situation is one that should be left to trained paramedics and first-aiders?

I look forward to your response,
The response I got back was…
nothing.
It would look like the Society of Homeopaths does not give damn if the public or its member are under the impression that homeopathy can be used in critical situations.
This does not surprise me in the slightest. When you are immersed in a subject that is impervious to critical debate, evidence and reason then the boundaries around what might be good practice and what might be poor practice become totally arbitrary. There are no standards that you might apply to decide where to draw the limits. If you accept the ability for homeopathy to treat hayfever on very poor standard of evidence, why not accept that it can treat malaria, cancer and road traffic accident victims too? Indeed, the easiest path of all is to draw no boundaries whatsoever. Why get embroiled in a debate with your delusional members? It could only reduce membership levels after all.
The Society of Homeopaths would like to see itself as a regulatory body for the profession. Indeed, some members believe it is. But it is no more a regulatory body than a golf club is a regulatory body for golfers. It is a members club, a registrar of the delusional, and a cosy members club too. How many members ever get struck off? What would they have to do to earn the society's wrath?
So, does this sort of quack belief in the ability to treat acute situations ever really do any harm? There was case recently of a midwife that allegedly got in the way of paramedics to apply olive oil to the feet and herbal remedies to a baby in urgent need of resuscitation. The baby survived, but with severe brain damage. Yes, not homeopathy, but a person with the same bonkers belief that magic can be used to cure in life critical situations.
Homeopathy, with its ridiculous pseudo-scientific explanations, is not a complementary therapy. Its belief system is in direct opposition to evidence based medicine and rational approaches to treatment. It instills a distrust in the medical profession and their 'allopathic ways' and their iatrogenic deaths. It is only a small step towards thinking that trained first aiders and paramedics need to step aside for their caring, more gentle homeopath.
–