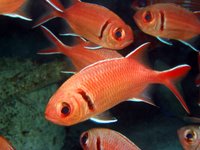 Today, the Advertising Standards Authority have upheld complaints against Equazen and their eye q™ products, finding them to have made untruthful and unsubstantiated advertising claims. This is about time. Their antics in promoting fish oil pills to school children have been well documented.
Equazen (now owned by Swiss pharmaceutical company Galenica) have been using local authorities to promote the idea that taking a daily fish oil supplement can boost children's' school performance. They call it the 'Clever Capsule' for your child. However, their evidence that could substantiate this has been hard to come by. Claims that the pills have been independently and scientifically tested in schools looked very weak with the only trials on record appearing to lack basic scientific controls, size or applicability. Nonetheless, the charge to sell loads of these pills to concerned parents has taken place in earnest.
Vitamin pill entrepreneur Patrick Holford has been pushing the pills on TV and through his Food for the Brain charity. Boots the Chemists have had displays extolling the virtues of the pills and their PR agencies have ensured that the credulous media, such as the Daily Mail, copy out the press releases as if it they were news.
All in all the message has been: you are an irresponsible parent if you are not shoving fish pills down your kids necks.
The ASA investigated whether the claim "A Hi-EPA fish oil formula that may help maintain concentration levels and healthy brain development" could be substantiated. Also they looked at the independence of the tests, the rigour of the test and whether the concentration and learning of all children would improve following supplementation. Equazen produced a huge amount of evidence to support their adverts but the ASA found that their claims could not be substantiated and they were misleading. The ASA instructed Equazen as follows:
We told Equazen to remove the claims "… may help maintain concentration levels and healthy brain development", "the Clever Capsule"Scientifically tested in schools", "proven in schools" and "proven by Science" from future advertising for eye q. We also told them to avoid implying in future that the advertised product could benefit the general population or that a trials results related to a product with exactly the same composition and dosage as the advertised product if that was not the case.
Now, I for one am mightily impressed by the ASA. This was quite a complex issue involving a lot of evidence and weighing of scientific viewpoints. This is something that many bodies wish to shy away from. We have seen the Guardian readers' editor this week talking about the difficulty of arbitrating readers disputes over scientific evidence. Some of the evidence was easy to dismiss, such as Equazen trying to pass off their adherence to the Food Labelling and Food Supplements Regulations as some sort of endorsement of the efficacy of their product. Other evidence required careful dissection of trial methodology to determine the applicability to their claims.
There is a problem in the UK of finding the right authorities to help in tackling the claims of quacks. If someone is making dangerous or misleading claims about a quack product then it is quite difficult to know who can help. Trading standards were set up to deal with dodgy plumbers and are run from local councils. The ASA is an industry run organisation with limited sanctions. The ASA deals with adverts only, but not web adverts. Trading standards are based in regional offices and may or may not have the experience to deal with more complex scientific issues. It is a bit of a mess.
The harm that the ASA ruling will have on Equazen is not a monetary one in the form of a fine. It is not the threat of legal action – it is rather a smack on the wrist from their peers. What they undoubtedly really fear is bad publicity and that is what an ASA ruling often leads to.
Far from perfect, and limited in scope and powers, the ASA appears to be remarkably willing to take on difficult issues and act on complex issues. I just wish that this approach could be applied more uniformly to challenge the problems society faces from quackery.