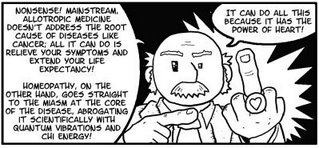 As I am sure you are aware, the marketing departments in pharmaceutical companies employ hoards of cartoonists to mock the alternative medicine industrty, alledgedly.
Here is the latest attempt to reduce the grand holistic arts to beano style ridicule. Joseph Hewitt's Ataraxia Theatre obviously has a thing going on about homeopaths. His latest scribble is a beautifully observed mocking of the absurdity of homeopathy. Joseph Hewitt is an English teacher living in South Korea. He likes iced tea and he says,
If you know me, and I know a few of you do, you'll know that the thing I hate most in this world is quack medicine. I have nothing but contempt for those who make their living fleecing money from the desperate.
He also refers to me as an 'internet celebrity' which is why I am plugging him here.
Which brings me onto an aside: I did not do a review of my last year of the Quackometer. Maybe I should have done. Lots happened and my readership has gone through the roof since I became an 'internet celebrity'. There is only one person I could thank for that and so I dedicate this cartoon to this person and give a special Quackometer 'Services to Stamping out Quackery' Award to Paula Ross, Chief Executive of the Society of Homeopaths. Thanks for all you did for me last year. If this was a real awards ceremony, now would be time for tearful hugs and the handing over of a crystal glass duck trophy. I couldn't have done it without you.
May 2008 be an even more exciting year! Happy New Year to all visitors to my site.