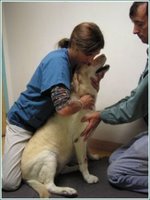 The decision by the British Chiropractic Association to sue Simon Singh will undoubtedly bring increased scrutiny of chiropractic. I would like to start with a first look at the education of chiropractors in the UK. This is also timely as Universities have recently been criticised for teaching quackery, resulting in a homeopathy degree being dropped by the University of Central Lancashire.
Chiropractic is going to be quite different from homeopathy though. Anyone can call themselves a homeopath. Having a diploma behind you helps in joining the various homeopathic pretend regulatory bodies. Have a BSc and you will be vastly overqualified by far to dish out sugar pills. Chiropractors, however, need to be registered with the General Chiropractic Council. Chiropractic is capable of causing injury to patients, sometimes even death. To be registered, you need to have studied chiropractic for at least four years to degree level including one year of clinical supervision. That is the law.
There are
three approved chiropractic
schools in the UK: the Anglo-European College of Chiropractic, the McTimoney College of Chiropractic and the Welsh Institute of Chiropractic. The three Universities that accredit these degrees in chiropractic are, respectively, Bournemouth Universty, the University of Wales and the University of Glamorgan.
Let's look at one college: the McTimoney College where you can gain a BSc (Hons) Chiropractic degree validated by the University of Wales. The first surprise that new students may get is that the college is in the very un-Welsh market town of Abingdon, a few miles south of Oxford on the river Thames. You are a very long way from the Valleys now, boyo. No male voice choirs and Brains bitter here. Abingdon is an attractive town, but the college happens to be situated on a peripheral industrial estate near the A34, between B&Q and Furniture Village.
McTimoney chiropractic is one of the many denominations of the original chiropractic ideas and appears to stick quite closely to the founding ideas. This '
usually painless
' technique twists and pulls sharply on the spine, sacrum, pelvis and the cranium whilst allowing them to spring back 'naturally' – the 'toggle-torque-recoil' technique. Students can follow up their BSc by seeing how their 'toggle-torque-recoil' techniques can be applied to small mammals (
MSc Chiropractic (Small Animals))
and children (
MSc Chiropractic (Paediatrics)
).
One of the recurrent
criticisms
of chiropractic is that it is founded in mystical ideas and has a very poor evidence base for the efficacy of any of its treatments. The
McTimony Chiropractic Association
, based a few miles from Abingdon in Wallingford, sheds little light on the evidence for the efficacy or superiority of their chiropractic variations on thier web site. The philosophy of McTimony is given as
McTimoney taught, as DD Palmer had before him, that health depends on healthy nerve messages, that subluxations of the vertebrae or other joints interfere with these, and that such subluxations can affect not only joints and muscles, but every cell and organ in the body. He also stressed what would one day be called holism: that human beings are not purely physical but mental, emotional and spiritual beings as well, and that treating the whole body restores health to all these aspects of the patient.
This looks like pretty
fundamental chiropractic
with their mysterious and unproven
'subluxations'
being the cause of illness – and not just bad backs, but the health of all 'cells and organs'. The college appears to adopt this worldview. Its
prospectus
states,
The basic principle of chiropractic is that disturbances of the nervous system, resulting from subluxation of the bones of the spine and other parts of the body, are a primary or contributory factor in the pathological process of many common human and animal ailments.
Another common criticism of chiropractic is the practice of developing
dependent relationships
with customers and encouraging them to have regular chiropractic sessions as a preventative or 'wellness' service. The
evidence
for the benefits of such prolonged and expensive intervention does not appear to be sound. The McTimoney school prospectus tells us that,
Chiropractors consider that the body benefits from having periodic chiropractic treatments on a preventative basis so that incipient problems may be avoided.
Given that the practice of chiropractic is founded on
pseudoscientific ideas
it would appear to be imperative to ensure that any BSc offered by a college maintained appropriate and modern academic standards. Some chiropractors have abandoned the dubious aspects of the trade and limit their work to that they can be confident works – almost exclusively lower back pain. Does the college in Abingdon do this? Who inspects them? Many aspects of the prospectus and web site worry me. They say in their description of chiropractic,
A chiropractor will examine by hand (palpate) the bones and joints of the body to check for imbalance, however slight. Any problems found are corrected with various adjustments, which are effective and safe. The bones are never forced into place, but by adjusting with a very rapid thrust and immediate release, the bone 'toggles' towards its correct position.

Chiropractic aims to restore nerve function in order to promote natural health. This involves re-educating the patient's muscle and bones into better alignment. It is also preventative treatment and can greatly improve overall health and well-being. Regular check ups are recommended to ensure that the body maintains a healthy balance.
Sounding just like homeopaths, they
say
,
Chiropractic is a drugless and non-surgical form of health care that aims to treat causes rather than symptoms.
Now the problem as far as I see it is that the General Chiropractic Council is responsible by law for
recognising courses
as meeting its standards so that graduates can call themselves chiropractors, don their white coat, put their brass plaque up, and title themselves 'Dr'. The GCC makes inspection visits to colleges and issues reports as you can
view
on their web site. This must surely create a conflict of interest. As there are only three colleges that provide chiropractic degrees, there would be severe repercussions for the profession as a whole if one of them was found to be offering substandard education. This potential conflict of interest is exacerbated by the fact that the principle of the McTimony Chiropractic college in Abingdon, Christina Cunliffe, is also a
council member
of the GCC. The GCC does ask its council members to
declare interests
, but questions can surely be asked about how independent the GCC can be in assessing the quality and appropriateness of education provided by the colleges.
Given the nature of chiropractic, there is surely a case to be made to separate the professional representation and regulation of chiropractors from the educational validation of their training. What role does the University of Wales play in this? That is a question we should find out.