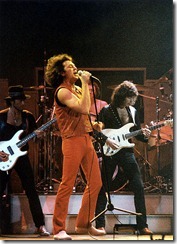 This evening, a gathering of aging rockers, are performing for a fundraising event aimed at helping children with cancer.
The Sunflower Jam is an annual event that is being held this year at the Royal Albert Hall as the Superjam 2011. Live on stage will be rock legends such as Rick Wakeman and Deep Purple. Newton Faulkner will also be playing. The evening, costing £178 for some good seats, will be hosted by Jeremy Irons, and entertainment will be provided by the Pineapple Dance Studios.
And its all in a Good Cause. According to the founder of the Sunflower Jam and Childline Award for Philanthropy winner,  Jacky Paice (and wife of Deep Purple's Ian Paice), SFJ raise money to "care for children, young people, adults and their families with a range of acute and chronic emotional, mental and physical conditions.". SFJ want to promote "the use of care givers and healthcare providers in a way that will improve outcomes."
How could I possibly have a problem with such a noble cause?
As always, it is worth digging a little deeper when this care is described as "holistic and integrated" – words that make the Quackometer smoke.
The problem is that the way Sunflower want to achieve its aims are by the promotion of 'healers' and other forms of superstitious and pseudoscientific treatments at the University College London Hospitals.
How do they plan to do this?
Well the proceeds will be going to the College of Medicine – a new organisation that has been accused as being a front for promoting quackery in the NHS. As I described recently, The College of Medicine appears to have perfected the art of 'bait and switch'. Despite its up front aims to 'redefine good medicine' and 'renew the traditional values of service, commitment and compassion and creating a more holistic, patient-centred, preventative approach to healthcare' it appears to be doing nothing but promote disproven and superstitious treatments.
The Superjam is to be a major fund raiser for the new College. Despite a recent denial on the pages of the BMJ web site from the colleges prime sponsors that the College is not promoting quackery but "is calling for a more compassionate NHS, where practice based on good evidence", the bankrolling by the Sunflower Jam would appear to contradict that view.
The Sunflower Jam, the organisation behind Superjam, are quite explicit in their aims to see 'healers' on oncology wards. Their case studies documents children with cancer who have been using other unproven, questionable treatments such as avemar (something not unlike a marmite pill), vitamin pills and herbal treatments.
Another worry about the real nature of the College of Medicine is that they have been keen to distance themselves from the Prince of Wales, a notorious supporter of quackery. But, according to a tweet from the Superjam, Charles will be attending a reception for the musicians and guests before the main show. The College, with many of the same staff and supporters, can be little more than a resurrection of Prince Charles' discredited charity, the Foundation of Integrated Health, that closed last year after arrests were made for corruption and fraud.
Real harm can come from 'healers'. Last week, Newsnight exposed one particular group who were claiming they could cure cancer. Such people, who believe that can channel some some of spiritual energy to help treat illness, are obviously delusional. It may well be that they are compassionate and caring, but exposure to their ideas raises false hopes and may well distort parents' ability to make informed decisions about how to care for their children with cancer.
No doubt, there will be parents who believe they have been helped by such people. But it is imperative to be careful about who is really being helped here and whether involvement of healers really does improve outcomes for children or is just exploitative nonsense that preys on the vulnerability and desperate situation of parents with very sick children.
For that reason, the Superjam ideals are misplaced and the money would be better spent on providing reality based auxiliary services for the parents of children with serious illnesses. Practical help, counselling and support would all be valuable and can be achieved without exploiting vulnerable people with superstitious and potentially dangerous nonsense.
Update 12 July.
This post has been updated as it incorrectly stated that the Paice family had experienced their own tragedy through childhood illness. I had confused the Sunflower Jam and the Sunflower Trust – the original recipients of benefits from the concerts. These are separate organisations – the Sunflower Jam, as I have stated, is benefiting the College of Medicine with this year's income. The Sunflower Trust has as its central aim of providing "Spiritual Healing and Reiki as complementary therapies in particular but not exclusively within the National Health Service".