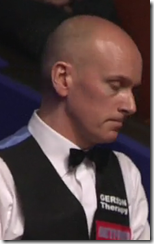 Snooker player, Peter Ebdon, has been appearing on the BBC Snooker Championships with a promotional logo for 'Gerson Therapy; emblazoned on his waistcoat.
Gerson Therapy is a form a alternative cancer treatment offered by many quacks and supported by a US company, the Gerson Institute. People with cancer are persuaded that the diet should be used as an alternative to mainstream treatment. It mainly consists of eating huge quantities of fruit and having coffee enemas.
There is no evidence that it has any effect beyond removing large quantities of cash from its users. Indeed, users may be harmed by its insane dietary requirements and the needless and dangerous enemas. Of course, it also harms people by driving a wedge between them and their oncologists and GPs. Informed decision making can no longer take place if you are being lied to by a quack with promises of 'natural cures'. In short, there is every reason to believe that Gerson diets kill people.
Ebdon is free to believe such nonsense, should he wish. But he should not be using his platform on national TV to promote such dangerous nonsense.
And the BBC itself may be breaking the Cancer Act of 1939 which prohibits the advertising of Cancer Treatments. The act is clear,
No person shall take any part in the publication of any advertisement (a)containing an offer to treat any person for cancer, or to prescribe any remedy therefor, or to give any advice in connection with the treatment thereof.
I would suggest the BBC is clearly taking part in advertising an offer to treat a person for cancer – a criminal act.