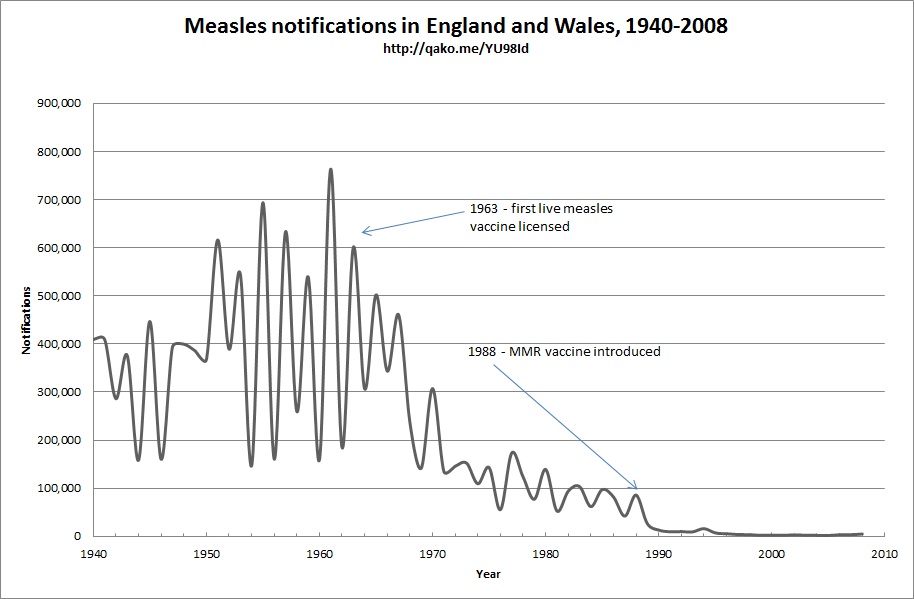 There is no general reason why a child in the UK should suffer measles. We have excellent and safe medical  technology to ensure communities can be free from this nasty disease. And yet, we are seeing hundreds of children in South Wales currently being infected and many being hospitalised.
Your favourite Tory MP, Dr Sarah Wollaston, has been concerned about her own constituents in Totnes where full MMR uptake rates are at a frightening low of about 70%. A few miles away in Brixham, the number is nearly 94%.
It has been common to blame the media for spreading fears about MMR, but we are all exposed to the same papers, TV and radio programmes. And all sections of the media have pretty much been as bad as any other. To explain the large discrepancy between MMR uptake in two towns, a few miles apart, other factors must be involved.
Totnes stands out as being a market town which thrives on an alternative and New Age culture. It is home to the Society of Homeopaths Education Department.  Totnes also has a Steiner School. (Steiner Schools embrace homeopathy for the treatment of children and suffer measles outbreaks as a consequence).  Nearby is the Schumacher College where you can do an MSc in Holistic Science and courses in Modern Zen Cookery and Writing from the Core of the Earth  (leave your laptops and phones at home: the course leader is electrosensitive.) A walk up the steep High Street will allow you to pass a GP practice that holds alternative medicine cancer conferences, and many New Age bookshops, cafés and food markets.
As such, Dr Wollaston did exactly the right thing and called on the leaders of various homeopathic organisations to make an "unequivocal statement that homeopathy offers no protection whatsoever against this serious illness."
The results were reported in the Guardian.
The medical homeopaths, those that are registered medical practitioners, said,
There is no evidence to suggest homeopathic vaccinations can protect against contagious diseases. We recommend people seek out the conventional treatments.
The Society of Homeopaths also made a statement.
Their spokesperson, Phil Edmonds, said,
The Society does not endorse the use of homeopathic medicines as an alternative to vaccination for the prevention of serious infectious diseases and recommends that members of the public seek the advice of their GP, and/or relevant Department of Health guidelines, concerning vaccination and protection against disease.
The Guardian does not report the rest of what Edmonds said, but the statement went on to say,
The Society supports informed decision making in regard to vaccination and recommends that patients seek advice from their GP, as well as organisations that specialise in providing information about this complex issue, so they can make an informed choice for themselves and their children.
In there, I would suggest, lies a lot of ambiguity.
Wollaston also asked Health Secretary Jeremy Hunt to make a similar statement in the House of Commons. Previously, Hunt has made statements that appear to endorse the use of magic pills on the NHS.
Hunt replied,
There is no scientific evidence whatsoever that homeopathic products can provide protection against measles. The right thing to do is to get two doses of the MMR jab. As I said earlier, anyone whose children, whatever their age, have not had those two doses should contact their GP.
That is about as unequivocal as you can get on the issue, so well done Mr Hunt.
So, can we believe that the homeopaths have finally put away their anti-vax rhetoric and are doing the ethical and sensible thing of warning parents away from homeopathy for the treatment of this dangerous disease?
I would suggest not. In fact, I would suggest these statements are the minimum necessary required to deflect attention away from themselves during this crisis – and no more.
Why do I say that? We have to remember that homeopathy was anti-vaccination long before Wakefield came on the scene. Homeopathy defines itself in opposition to mainstream medical practices. Research would suggest few, if any, homeopaths in the UK would advise a parent to take MMR. Why would this suddenly change?
We should be aware that it was a director of the Society of Homeopaths, Richard Barr, who paid Andrew Wakefield £435,643 to find evidence to discredit MMR. Barr raised that money from Legal Aid in an attempt to bring a speculative class action lawsuit against the makers of MMR.
Wakefield himself was patenting an alternative vaccine to MMR, but this vaccine had no chance of success unless confidence in MMR was thoroughly damaged.
Homeopaths since the scare have profited from the false fears and sold alternative homeopathic vaccines. Reporter Sam Smith on BBC South West exposed Ainsworth's pharmacy selling a range of dangerous homeopathic products that were used by homeopaths to treat and prevent measles.
The Medical homeopaths, represented by the Faculty of Homeopathy, in their statement tried to blame 'unqualified' homeopaths.
I don't know where the parents in Totnes are getting their information from – it certainly is not us. There is no legal regulation of homeopathy in the UK and anyone can set themselves up as an expert. It is those people who tend to give us a bad name.
The Faculty need not look too far to find out who to blame – it certainly is their own members spreading misinformation about MMR and advocating homeopathy.
Member of the Faculty of Homeopathy, Dr Jayne Donegan, has recently posted a statement about the current measles outbreak. Donegan appears to share the belief held by many in the alternative movement and Steiner Schools that measles is a beneficial disease for children.
Dr Michael Evans, a leading Steinerist GP in Stroud, and member of the MHRA Advisory Board on the safety and efficacy of Homoeopathic Products, writes in a book that,
Against this background, the role of illness during childhood, particularly in the first seven years, can be seen in a quite different light from the conventional view. The opportunity for remoulding the physical body is provided by the constant dissolving and reforming of its structures. During feverish illnesses, all the metabolic processes speed up and the high temperatures can offer a special opportunity for a more intensive reshaping.
and
The appearance of new illnesses [such as] Aids — might also be taken to suggest that the increasing number of people suffering from such disorders may be connected with the widespread and indiscriminate use of antibiotics and paracetamol, which weaken the immune system.
Back to Donegan, her advice to parents with children with measles is,
Put them to bed, open the window (preferably nurse them in the garden), give then plenty of clear fluids and NO FOOD unless STARVING. You might want to give them some homeopathic remedies or keep them in a darkened room.
So, GMC registered doctors can be supplying this sort of advice to parents about MMR, measles and homeopathy. As such, we should take the Faculty of Homeopathy's statement with a large pinch of salt. Whilst their members hold such views and practice as such, their reassurances are meaningless.
As for the non-medically qualified homeopaths, as represented by such organisations as the Society of Homeopaths and the Alliance of Registered Homeopaths we should be even more wary.
Together, they have just launched a web site called 'Find a Homeopath' that is supposed to help people get in contact with their local homeopath. It describes homeopathy as follows,
Homeopathy is a complete system of natural, evidence-based, medicine which works on the principle that 'like cures like'.
Homeopaths indeed hold the fantasy that it is 'complete' – there is no need for anything else. As such, their statements that they do "not endorse the use of homeopathic medicines as an alternative to vaccination" should be taken in the light that they do not endorse homeopathy for any particular condition – they have no need to – their beliefs are that it is complete.
And as might be expected, we see senior lay homeopaths, responding visciously to suggestions that homeopathy cannot be used for measles. Steve Scrutton tells the world that,
Yet measles is not 'dreadful'. And the MMR vaccine is not safe. So the NHS are telling us to take a medication that is dangerous to prevent an illness that is not serious.

And the treatment of the measles, with homeopathy, can take the fear of the illness away, completely.
With the numbers in the South Wales outbreak getting near 1000, we may not be surprised if a child dies. Yes, the press have been blind to their own errors in raising unfounded fears, but we must not forget that these fears are being actively stoked, encourage and profited from by a range of alternative medicine groups, most noticeably the homeopaths.
Unless the homeopaths themselves take urgent and thorough steps to stamp out such beliefs within their own membership and lead with a culture that respects evidence and reason, I would discount any statements they make.
But things could be done outside of the homeopathy groups. Most importantly, the MHRA could do what it is supposed to and take steps to remove these unlicensed medical products – most homeopathic pills – from the market. But its actions here have been lamentable,
I suggested  a few months the MHRA's inaction over homeopathic vaccinations and pills will kill children. I will repeat it as they have the ultimate responsibility to protect the public from dangerous and superstitious medical products.
Children will be harmed by this inaction. Children will die. And the fault must lie with Professor Sir Kent Woods, chairman of the regulator.
Further Reading
The Dianthus Medical blog issues a challenge to the Society of Homeopaths regarding their statement.