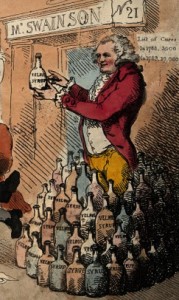 One of the common marketing messages behind alternative medicine is that is represents true innovation in healthcare. Using one Prince Charles' favourite words, it tries to offer "integrative" services by combining the best of 'Western', or orthodox, medicine with ancient traditions, Eastern practices and New Age ways of knowing.
Doctors, in this thinking, are portrayed as hamstrung by their conventional medical training or, even worse, beholden to their imagined paymasters in Big Pharma. Doctors either cannot conceive that there are medical 'paradigms' outside of their University experience, or can do, but fear their paychecks will run out if their depart from their lizard master orders to keep dishing out the pills.
The Saatchi Bill, currently passing through the Houses of Parliament, flirts with these ideas. Its premise is that there is a pool of treatments waiting to brought into mainstream practice by conventional doctors who want to innovate. But stopping them is a fear that they will be subject to punitive litigation for departing from the safe and orthodox path.
Opponents of the Bill point out that there is absolutly no evidence that doctors are afraid of genuinely innovating because of inadequacies in the law. Of course, there is a very big difference bewteen fear of litigation because you have been negligent in providing quack treatments and fear of litigation becaue you have wanting to genuinely innovate and advance medical knowledge. Whilst it is clear that many doctors are sued because of claims they were negligent, there is no evidence that any doctor has been sued because they tried to innovate.
But at the heart of this debate then is what we mean by the words 'medical innovation'. To one person, a treatment might be innovative; to another, straightforward quackery.
The Saatchi Bill has not tried to define medical innovation despite it being the subject of the texts. One of the fiercest opponents of the Bill, Lord Winston, has tabled ammendment to try to make such a definition. I must admit, I do not understand why these definitions have been put forward as they do not appear to answer the questions I have posed here.
Let's see the proposed changes,
 For the purposes of this Act, an "innovation" means—

(a)   any medical treatment, the results of which have not been reported
in peer-reviewed medical publications or have not been subject to
the scrutiny of a published clinical trial;

(b)   the use of any drug, vaccine or pharmaceutical agent which has not
undergone appropriate clinical trials required by UK or EU
legislation;

(c)   the use of any drug, vaccine or pharmaceutical agent for a purpose
other than that stipulated by the manufacturer;

(d)   the insertion or application of a device or instrument for which
approval has not been given by the relevant EU regulatory
authority; or

(e)   the application of a monitoring device or biosensor for which
approval has not yet been sought or given."
The problem I see with the above definitions is that just about every quack claim out there could fit the description of 'innovative'? How many papers out there are there showing that homeopathy cannot treat brain tumours? What is to stop a doctor using homeopathy to treat cancer here? There are no trials to support such a treatment. So should we consider homeopathic treatment of cancer innovative or negligent quackery?
Merely conidering the availability of trial data is not sufficient to rule out negligent treatments. The treatment has to have a rationale behind it: it has to be supportable by plausible medical and scientific arguments. A few years ago, I wrote about how it was wrong for supporters of Evidence Based Medicine, such as the Cochrane Collaboration, to call for more research into treatments that were implausible, such as homeopathy. I introduced a visualisation of how to think about whether a treatment was scientific in its rationale or was quackery. A treatment could be plotted on a chart with two axis: one, the degree of evidence available for the treatment; and two, the level of plausibility behind the treatment. We could then segment treatments according to the quadrant on the plot they fell into.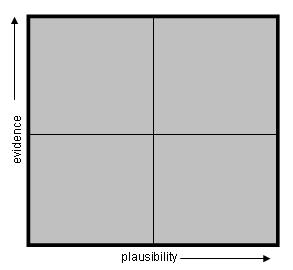 Scientific medicine lies towards the upper right quadrant. Quackery in the lower left.
Accepted medical treatments ought to have an appropriate level of evidence to overcome any doubts regarding their plausibility. Extrordinary claims ought to have lots of evidence. Unambiguouss treatments, where outcomes are binary and unquestionable, probably need a lower level of evidence.
So, innovative treatments are those that exist below this threshold but are not implausible. Quackery will fill the gaps below this line. We can visualise as such: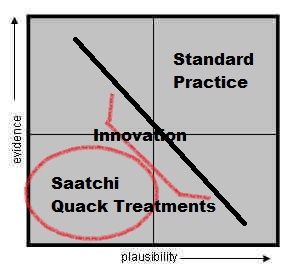 The Saatchi Bill team claim that doctors are afraid to innovate because they fear litigation if they do so. No evidence of this has been forthcoming. Dominic Nutt, the Bills PR spokesman uses the analogy of a parachute. What patient would not grab the parachute in a crashing plane if there is a sign on it saying 'not been subject to randomised controlled trials'? It is a daft analogy. Doctor's are already quite able to offer patients metaphorical parachutes if they exist. Parachutes have not been in RCTS – but their effect are unambigous and their mode of action is well understood and characterised. In our chart above, parachutes would sit in to the bottom right. However, I would challenge you to find many medical treatments that occupy the same space. Medicine is a lot more complicated and ambiguous than this.
Doctors are well able to currently use innovative treatments as long as they are backed by sound medical and scientific reasons as to who they would be in the best interests of patients. Current law protects such doctors and they do not fear litigaiton. Where fears of litigaiton exist is when a doctor would use a treatment that sits towards the lower left quadrant. The Saatchi Bill does nothing for the innovative treatments, but is allowing doctors to act with impunity in the quadrant of quackery. Fear of litigation in this quadrant is a good thing. It is by definition irrational and irresponsible and doctors who use treatments in this area ought to fear the consequences. But to be clear: this is is not fear of innovation, it is fear of negligence.
In this age of patients all having a medical education from the University of Google, the demands on doctors to offer treatments that have been read about online is high. Often this can lead to informed discussions between doctor and patient – which is great – but it can also lead to high expectations, misunderstandings and false hopes. The web is awash with quack cancer claims and planted testimonies to support these claims. As Ben Goldacre has pointed out in his first law of bullshit dynamics 'there is no imaginable proposition so absurd that you cannot find at least one person, somewhere in the world with a PhD or professional post, who is happy to endorse it'. Managing expectations in this area must indeed be a real challenge. But it is not fear of innovation that is holding doctors back from delving into Saatchi's quadrant of quackery.