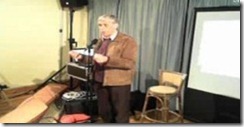 Earlier this month, I wrote about how Dr Stephen Hopwood was opening a new alternative cancer clinic in Totnes, Devon, that was to "offer real alternatives to the conventional approach to cancer health care".
To celebrate the opening, Hopwood was holding a cancer conference, inviting people with cancer to come along, and inviting a range of cancer cure peddlers to temp attendees with their magic beans.
What followed was quite extraordinary.
Local Devon MP, Dr Sarah Wollaston, after re tweeting my blog post, got in contact with the local Trading Standards. She was not the first to do so; prior to my post, others had also expressed their concerns.
Trading Standards have recently come under academic attack for failing to act on breaches of various consumer protection laws around health claims. A study placed 39 complaints to various Trading Standards. None resulted in prosecution; many complaints were simply ignored.
But the involvement of a local MP no doubt prompted TS into action and the BBC reported that they had initiated an investigation into claims that the clinic and conference were in breach of the Cancer Act of 1939. Hopwood accused the MP for being a "shop front" for the pharmaceutical industry. Classy.
A local Trading Standards Officer told Hopwood,
In view of the above I would advise you to remove the above references regarding the treatment, either by direct means or otherwise, of cancer from your website, and other documents associated with your business. I would also recommend that you remove any other references made regarding the treatment of cancer not specified above. Failure to do so could render your business liable for prosecution under the above legislation. I would request that these references are removed within the next 7 days.
Unexpectedly, local radio station Totnes FM waded in to report the story. Given that Totnes is a hotbed of New Age thinking and the radio station airs programmes such as "The Psychedelic Shed" and "Totnes Tales" with their in house medium, I was surprised at their no nonsense approach to the story. They kept people up to date with the latest developments and even invited Dr Hopwood on for an hour where he was given the grilling of his life.
Totnes FM reported that the local council had voted to deny the conference the use of the Town Hall. That posed Hopwood a tricky problem with only a few days to find another venue. And quickly it was reported that the conference would now take place at the nearby Sandwell Barns Eden Rise Retreat Centre. As this was not public property, the council were now powerless to stop the event going forward.
In addition, Hopwood decided to drop his star speaker, Dr Simoncini – a man convicted of swindling and wrongful death who believes cancer is a fungus and can be treated with baking soda. Simoncini became the sacrificial lamb to try to ward off the critics. On the radio show, Hopwood said that he now had concerns about Simoncini "I think he overstepped the mark, making false claims for his findings, but I believe what he had to say holds some truths and principles."
I am not clear about what truths and principles there are in stating that "cancer is a fungus that can be cured with baking powder."
Hopwood was adamant that the conference would go on. But then at the last minute, Trading Standards decided to wade and state that the event would be illegal. TS said, "Even the title of the conference and the title of your clinic, in our view, are likely to breach the legislation because of their promotion of cancer treatment."
One of the proposed speakers at the event, vitamin pill industry lobbyist, Robert Verkerk posted on his site that the event would still go ahead but now be an 'private conversation for invited guests"'. And then promptly gave an email address to reply to if you would like to be 'invited'.
It would suggest to me that Hopwood had decided to thumb his nose to the local MP, the local council and Trading Standards and proceed anyway, but use weasel words to try to suggest they had changed the nature of the event,
We are not promoting any therapy for the prevention or treatment of cancer…we are administering a range of healthcare modalities that are known to help support the body in a diseased state, particularly when affected by cancer
Dr Hopwood's website remains up with a changed front page. Over the weekend of the conference, the front pages showed some bizarre conspiracy videos. Today, several days after the event, a new page has appeared telling us that the "Totnes Cancer Health Care Conference is to be CANCELLED."
This is misleading as it implies that this notice was put up before the event and that the event did not go ahead. Which it most certainly did. It was even live streamed on Hopwood's conspiracy TV channel, Paradigmshift.tv (Sky Channel 201). The only difference was a change in location (decided before TS told them the conference was illegal), a lack of one speaker, and that money would be refunded. The conference became a free conference – it was not cancelled. And the public were still being invited after TS told them about the legal issues.
According to people who were at the conference, the venue was overflowing with audio having to be streamed to people outside the room.
The notice is misleading in other ways too. Hopwood states,
The reason given is that it is thought that the Totnes Cancer Health Centre and the Conference may be in breach of the 1939 cancer act which states that it is illegal to say, or imply that cancer can be treated by any other means than Radiotherapy, Chemotherapy or Surgery.
This is not true. The Act makes no mention of any exemptions for any form of treatment. You cannot advertise any treatment conventional or alternative, proven or unevidenced, scientific or superstitious.
Hopwood goes on,
It has not been the view of the Centre that we have been offering treatments for Cancer rather that we have been commited to offering specialist support including complementary therapies, advice & counselling for people living with cancer & their supporters.
This statement does not appear to be consistent with what the Centre's own web site saying,
We have expanded the Arcturus Clinic to offer real alternatives to the conventional approach to cancer health care.

We believe there is another way of understanding, preventing and approaching this disease.

One of the main aims of the CHC is to bring together a complete range of alternative cancer health care treatment information in an accessible format so people can easily use these principles and practices to restore their health.

An initial assessment with one of our directors will establish your individual needs, build a personal programme and refer you to the appropriate practitioners.
To me, the aims looked clear: to provide an alternative to mainstream treatment. And the conference was there to promote these alternatives.
Trading Standards now have a choice. Will they turn a blind eye to the event? Or will they actually demonstrate they have teeth and investigate, prosecuting if necessary?
There is an air of strong defiance from Hopwood and his supporters. On the comments page of Totnes FM, you can see the good people of Totnes claiming that this an issue of free speech and a terrible thing – no doubt with the pharmaceutical companies behind it. No one is stopping anyone talking about alternative cancer cures, nor from choosing them if they wish. This is about advertising a cancer business illegally. But such laws are only meaningful if they are enforced. And as I started this article, Trading Standards have some ground to make up here.
This is not the only such conference. As I also wrote about earlier this month, the notorious Dr Burzynski is coming to the UK to talk about his unevidenced and extremely expensive cancer cures at the National Motorcycle Museum Conference Centre in Birmingham. All involved could be in breach of the law. At least Devon TS have now set an important precedent in saying such events may be illegal.
But TS now need to decide if they wanted to look like toothless fools. This is not a victimless crime. Selling dodgy cancer cures robs people of money, choices and dignity at their most vulnerable moment. It's plain cruelty. The fact that the sellers may be deluded rather than criminal is no excuse. It's about time Trading Standards saw this as a priority, perhaps above an under-measure pint or a dodgy warranty.