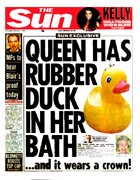 If you would like to receive emails whenever the quackometer finds a quack newspaper article, then provide your email address here.
Email alerts will only be sent for the most quacky stories and you can choose which region of the world you want to know about.
Your email address will only be used by the quackometer automatic alert engine to warn you about quack stories. The black duck is not a spammer and will strive to ensure you only get interesting alerts.
Canceling News Alerts
If you have already registered and wish to stop receiving alerts, or you have any other problem, then please contact with the email address given below.