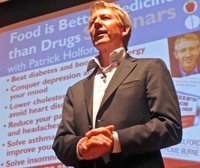 Patrick Holford has built up a very impressive and comprehensive empire; networks of web sites, charities, a college, educational trusts and of course, books, TV shows, supplements sales, and licensing deals. It is a very impressive achievement and it would be hard to argue that Patrick, and his philosophies, did not pretty much dominate the UK nutritionist scene. Some nutritionists might outsell him in book sales, but none have created such influence. Patrick has had his set-backs over the past 30 years, but now, mention 'nutritional therapy' in the UK and you will soon come across the name of Patrick Holford. The energy and drive required make this happen over the years is indeed remarkable.
It is a far reaching network. Even the bodies that set themselves up to govern the profession of 'nutritional therapist' are indebted to him. A list of the people involved with the British Association of Nutritional Therapists (BANT) will reveal many names whose qualifications are given as DipION, from the London college that Patrick set up many years ago. Patrick, himself, was awarded an honoury Fellowship of BANT. (One has to hypothetically wonder what would happen if one had cause to complain to BANT about something you felt was not right about Patrick. )
There are other celebrity media nutritionists out there too, but again, most stand in the shadow of Patrick. Columnist Dr John Briffa has attended training courses at the Institute of Optimum Nutrition (ION), and now gives lectures there; the Food Doctor, Ian Marber MBant Dip ION (not a real doctor) gained his qualification at ION; and so did the Channel 4 Diet Doctors, Vicki Edgson Dip ION (not a real doctor) and Dr Wendy Denning (this time, a real doctor). Perhaps, the only major name missing is 'Dr' Gillian McKeith.
The feat of building this nutritionist world is even more remarkable when one remembers that Patrick does not have a degree in nutrition, or indeed any statutorily recognised qualification in such matters. Patrick comes from a psychology background, but at some point, according to his own biography, he became interested in the nutritional impact on mental health. He then says that he studied the ideas of Linus Pauling and became fascinated with Pauling's ideas on 'molecular nutrition'.
Now, Pauling has a unique and outstanding position in science in that he is the only person ever to receive two unshared Nobel prizes. One is for quantum chemistry and the other, the Peace prize, was awarded for campaigning against atmospheric nuclear testing. Towards the latter part of Pauling's career, he became convinced that Vitamin C was a miraculous substance that could transform our health. Out of these ideas came the concept of Orthomolecular Medicine and Orthomolecular Therapy. The core of this idea is that you can treat disease with large quantities of nutrients, far beyond that which you would find in the best of diets. Supplementation with gram level quantities of vitamins is what is required to achieve this health boost. Somehow, these large doses are seen as 'optimum' for the human body. Patrick calls this the medicine of tomorrow. It has been the medicine of tomorrow for quite a while now.
When one criticises the concepts of Orthomolecular Therapy, one is almost immediately reminded of Pauling's god like status in science by its advocates. Who am I to question a double-Nobel laureate? However, it is equally as easy to be told that Pauling's nutritional convictions should be a warning to us all not to take scientific authority as proof of a proposition. More than that, Pauling shows us that when an accomplished scientist talks about areas outside of the domain in which they have excelled, we should be just as suspicious of the claims made as of claims made by anyone else. Nobel Prizes do not infer omnipotence and infallibility.
Despite the allure of believing that mega-vitamin doses can help alleviate all sorts of health problems, the scientific research to back this up has been rather weak, an idea regularly now explored on HolfordWatch. This is not just because, as Patrick would claim, that vitamins are unpatentable and so of no interest to 'Big Pharma', rather that when the research is done, the results are invariably disappointing. This is a big shame. It was such a good idea.
In retrospect, there is no real surprise to this lack of success. Just because a mineral or chemical acts as an essential part of a diet at low concentrations, does not mean that it will take on therapeutic qualities at very high doses. It may just as well take on toxic qualities. Many vitamins and minerals are now well known to give nasty side-effects and even cause cancer at doses higher than the recommended allowances. This is because 'naturalness' and a continual low-level presence in the body does not guarantee tolerance at excessive 'unnatural' levels. Each mineral or vitamin has to be taken on its own merit, along with every other possible chemical, in the chance of becoming the next wonder drug or treatment. There is no magic in minerals, no panacea in Vitamin C, no matter how bewitching the idea.
Orthomolecular medicine has not died with Pauling. But, first it is right to note that Linus had every right to dream up fanciful new ideas. The creativity of science depends on wild hunches, dreams, flashes of insight and sometimes what is even seen as madness. But just because an idea is persuasive, alluring or even unconventional, does not mean that it is right. Science must discard those ideas that fail experimental tests, no matter how much we would wish them to be true. Starting out as a promising idea, orthomolecular medicine must now join the others in the 'good ideas that failed' cupboard, including the flat earth idea, n-rays and cold fusion.
It is maybe the simple attractiveness of orthomolecular medicine that has meant it has survived beyond its natural lifetime. One can see the core of the syllabus of ION coming from the ideas of Pauling and his followers. Those that call themselves orthomolecular therapists follow the patterns of providing health questionnaires, hair mineral analysis, optimum target levels, and then prescribing many vitamin and mineral supplements, sometimes way beyond RDA levels, as well as large dietary changes. But, the science behind this methodology is heavily disputed. For example, I have written about the problems of Hair Mineral Analysis previously, a subject Patrick studied at postgraduate level, but failed to complete.
Patrick is the UK representative of the International Society for Orthomolecular Medicine. The Institute of Optimum Nutrition and its philosophy may be seen, at least in part, as a re-branding of these ideas for a British audience. But by clinging to these ideas, Patrick has cut the nutritionist industry he has created off from mainstream dietary thought. There is now a chasm between scientific nutritional studies, as typified by the work carried out largely by Registered Dieticians, and the work carried out by 'alternative medicine' nutritionists, as typified by your ION educated therapists. This is a conscious act; Patrick and BANT make it quite clear that Nutritional Therapy is a 'complementary and alternative medicine', and so is more aligned with homeopathy, reiki, magnet therapy and angel healing than science. By clinging to alluring ideas in the face of contrary evidence, nutritionist science has become more like a pseudoscience and their health claims and practice, quackery.
The whole concept of 'optimum nutrition' appears to be rather intellectually and philosophically lacking. We are all rather special apes. We have evolved from common ancestors with chimps, and our furry cousins appear to have quite broad diets of mostly plants, supplemented with occasional meat, not unlike what dieticians tell us we ought to be eating. But homo has taken this basic food pattern and exploited it to its full potential. Various waves of our ancestors spread out from Africa, through forests, grasslands, deserts, coasts, mountains and frozen wastelands. Our diets changed as our ancestors moved, with the diet changing must faster than our bodies evolved. The success of humans appears to be in some major part due the fact that we can cope with huge changes in dietary inputs and still maybe live to 40 or 50 years or so without medical intervention. We exist on a broad nutritional plateau of possibilities, not a supplement sustained 'optimum'. Many species must exist within narrow nutritional windows; we, most obviously, do not. It would appear highly improbable that our current generation should suddenly be susceptible to small variations away from the nutritionists' 'optimum'. Of course, we can stray off that plateau into the McDiet lowlands – but Patrick is preaching to many of us most firmly rooted on top of it.
The whole concept of '100% health for life' appears to deny how we can choose our level of health (to some extent) and that anything less than 100% is 'bad'. A rugby player ends up battered at the end of the season, but willingly enters the next season for the life-enhancing benefits that the game brings. Parents may accept the inevitability of exhaustion of looking after a newborn, and many accept stressful jobs for the rewards that it may bring later in life. We trade health for other things we value. But more importantly, our bodies go through natural cycles of renewal and regeneration and our rhythms of health are a natural part of our lives. And when we do succumb to a virus, it is not because of some moral shortcoming in not keeping ourselves on that pinnacle of nutritional perfection, but rather because our immune systems have not encountered this particular cold virus before, and our body's evolved defence mechanisms are kicking in. '100% health' promises and ideal that is not meaningful, possible or even desirable for many of us.
As you might then expect, Nutritional Therapists have a strong streak of anti-science in their creed; the rejection of 'the other lot', the dieticians who are more cautious in their interpretation of data and a huge distrust of mainstream medicine, their drugs and practitioners. As with almost all people who call themselves complementary therapists, there is the inevitable tendency to disparage those they say they complement. Nutritionists also do tend to embrace the much quackier side of medicine, with many practitioners also offering highly dubious techniques from reflexology, homeopathy to naturopathy.
Moreover, I would contend that Nutritional Therapy is more than just another alternative medicine. In order to understand it, it is worth looking at its cult-like qualities as well. Whereas an alternative medicine like homeopathy is diffuse and widespread in its allegiances, Nutritional Therapy still very much has its recent founders and living gurus. With its god-like revealer, Pauling, and his messenger in Britain, Patrick, its special college, somewhat outside of the main education establishments, its rather closed synod, BANT, and not forgetting its holy scriptures, the New Optimum Nutrition Bible. Optimum Nutrition has more in common with scientology than science. And I mean this in more than just in a metaphorical way.
As the prophet of nutritional healing, Patrick is reaching out to the people of Britain, bringing them a message of hope that society's ills can be cured by dietary changes and vitamin pills. The evils of the drug industry, the misery of disease and the side-effects of Big Pharma's drugs can be side-stepped by just eating better and popping pills. He calls the children to come to him through the Food for the Brain programme, and then offers to rid them of the evils of ADHD and underachievement, by banning their loaves and feeding them fish transubstantiated into thousands of miraculous supplements.
The Food for the Brain charity is on a messianic message to liberate the sub-optimally nourished children of Britain and to transform their brains into supplement-popping nutritionist consumers. Although Patrick talks quite rightly about the need for good diet, supplements are very much there at the front of their schools projects, being promoted and dished out for free, getting you hooked. The Orthomolecular programme is influencing thoughts here. My message is not one of impropriety as people can buy supplements anywhere, but when Patrick has so comprehensively covered the nutritionist space in the UK, and if the schools programme is successful, then many more fish oil pills will be popped, books will be bought, hair analyses performed and nutritionists consulted. That web of business will invariably fall back into the walled garden of BANT practitioners and so naturally help Patrick's disciples.
It is not the messages around eating well that is wrong. If Patrick helps kids eat their greens then great. It is the message that 'Food is better medicine than drugs' (the name of a book he has co-authored) and the implication that supplements are even better than food is the one we should be critical of. It medicalises the food we eat. It turns eating into a health obsession. It confounds nutrition with medicine, the healthy with the sick, and drugs with profit motives. It adds to the neuroses we have about food, rather than diminishing them. Rather than being taught to enjoy food and celebrate its diversity and its pleasures, we are being taught to fetishise what we put in our mouths.
So, we have two worlds in the UK. Worlds with very different views on how food and diet affects our health and how we can manipulate diet to improve our health.
The first world is typically populated by scientists and dieticians. They take an evidence-based approach to understanding food and are cautious in coming to conclusion where there is insufficient data. They work in clinical practice, in hospitals, universities and on an NHS wage. They advise on good, affordable and understandable diets, and treat patients who are sick and need careful advice on their road back to health. They concentrate on the overall diet and not on an obsession with nutrients. They are regulated under law, have transparent and meaningful governing bodies. They are accountable for their actions and can be struck off if they fail in their duties. They promote their work in science journals. They share their canteens with nurses, surgeons, medical students and doctors.
The second world is populated by lawyers, accountants and journalists that have undertaken a career change. Younger students enter independent nutrition colleges and need little scientific training to do so. If they don't get training, they add 'Dr' to their name anyway and get a contact with Channel 4. They selectively pick evidence that suits their alternative philosophies and learn to be suspicious, if not downright hostile, to science and medicine. They work in private practice and sell food supplements, questionable allergy tests and hair mineral analyses. They confuse allergy and intolerance, and fetish on vitamins and minerals, whilst advising clients to remove whole food groups from their diets. They sell their business to the worried well and poke around in their poo. They are not statutorily regulated and so lack that accountability. They promote their work in newspapers and magazines. They share their Richmond bistro with reflexologists, personal trainers, homeopaths and TV producers.
Does this divide matter? Surely, if the end result is that people eat better, then who cares how we got there? It is important to ask though if we do end up at the same point. Does Nutritional Therapy provide health benefits? Having stepped outside of the scientific mainstream then this is more difficult to answer than it should be. People like Patrick complain that as vitamins are not patentable then the incentives to do the research are not there. This rather sidesteps the moral incentives to be sure that what you preach is true. Much science is done for its own sake if it is felt to be worthwhile. What more worthwhile cause is there than easy routes to health through nutrition? The sale of food supplements in Britain is worth over £200 million annually. Some of Britain's biggest companies are involved, such as Boots. Holland and Barret is owned by one the largest pharmaceutical companies in the US. Surely 1% of these sales would provide a very good start to a research fund. This would be much less, pound for pound, than 'Big Pharma' spends on research. Patrick could be instrumental in corralling 'Big Nutripharma' into similar activities.
But I think it it gets worse. With the Nutritional Therapists emphasis on cutting out whole food groups and on cramming useless supplements, diets could indeed worsen under their advice. Patrick has been recently criticised for Food for the Brain approaches that could have damaged an autistic child. Furthermore, with Patrick's interest in mental health there is the a real risk of harm if such advice leads to sub-optimum control of the illness. Mental health problems wreck lives, destroy families and kill. There is no scope for wishful thinking not backed up by sound evidence. The very nature of mental health problems means that it can be difficult to carefully manage a therapy with a patient. Adding groundless nutritional advice into the mix, and instilling distrust of mental health professionals, cannot be good for patients.
So, could we have imagined a different history, where Patrick came back from his Paulingian epiphany and put his undeniable talents and energy into a more science-based programme on nutritional health? Would we have a more unified and positive approach to dietary information in the UK? Somehow, I doubt it. There may always be a tempting hole for someone to fill, where people will believe that a multivitamin is a shortcut to eternal health. Parallels with Holford exist in other countries. Germany has Matthias Rath who claims to have also been inspired by Pauling, who has rebranded Orthomolecular medicine as 'cellular medicine', sells loads of supplements, but, whereas Patrick tends to focus on mental health, Rath focuses on HIV and cancer for his nutrient panaceas. His advocacy of vitamin C as an AIDS cure in South Africa has met with, what can I say, severe criticism. Tens of millions of people have the HIV virus in South Africa and there is a large HIV denialist movement that extends up the highest reaches of government. There is no room for equivocation here and Patrick's own mixed messages on Vitamin C being better than AZT, could have the most serious consequences.
Modern medicine is founded on the depersonalisation of illness. It rejects the subjective and seeks dispassionate views. Its undeniable success in doubling life expectancy, eradicating diseases, transplanting organs, and showing us that smoking is bad has been achieved by what looks like treating people as numbers, data and, at times, test subjects. By an ironic twist, this apparent scientific coldness allows us to strikingly transcend the inhumanity of sickness and disease. However, the perception of indifference and distance may be the very thing that makes Patrick's message of nutritional health answers so alluring, and allows the nutritional therapy business to survive. People want to feel their health fears have personal meaning and are controllable.
The impact of Patrick's nutritional army is a confused public that hear contradictory evidence daily in the newspapers. It results in unnecessary worry, in meaningless expense, and forms a distrust of authorities that could actually offer sound advice.
We are being dis-served at our dinner table by the nutrionist dogma.