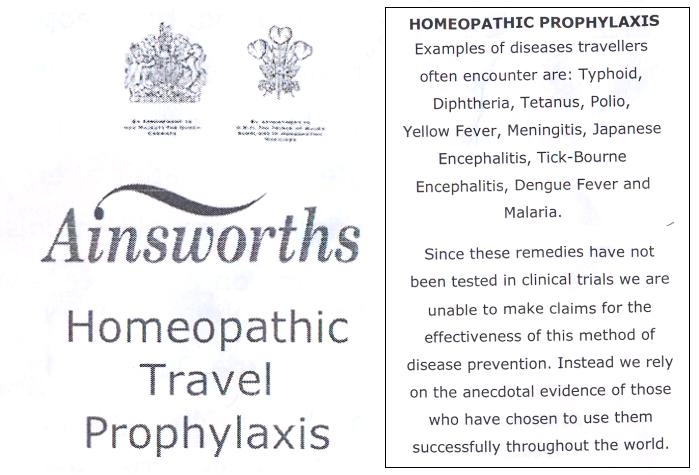 You might have thought by now that homeopaths would have understood that one of the main reasons they are constantly criticised is that they make claims that their sugar pills can treat or prevent life threatening illnesses when there is no sensible reason to think this is true. This puts lives at risk. If homeopaths were more circumspect in the claims they make, then they might have a quieter life.
It is something of a shock then to see this morning's adjudication from the Advertising Standards Authority against Ainsworths Pharmacy who have been promoting remedy kits for travellers that claim to prevent travellers diseases such as typhoid, diphtheria, meningitis and malaria.
A leaflet that promoted this product was complained about to the ASA. It is worth reproducing much of the text to show the extent of their irresponsibility and prevarication:
Conventional holiday vaccination involves injecting a foreign protein into the blood. Homeopathic prevention is more subtle and relies on an oral dose of the same material in a highly diluted and potentised form. We offer homeopathic alternatives to conventional travel immunisations, depending on which areas you are travelling to. Examples of diseases travellers often encounter are: Typhoid, Diphtheria, Tetanus, Polio, Yellow Fever, Meningitis, Japanese Encephalitis, Tick-Bourne [sic] Encephalitis, Dengue Fever and Malaria.

Since these remedies have not been tested in clinical trials we are unable to make claims for the effectiveness of this method of disease prevention. Instead we rely on the anecdotal evidence of those who have chosen to use them successfully throughout the world
The complainant (who is now a member of the Nightingale Collaboration) complained that the leaflet was misleading in claiming homeopathic sugar pills could prevent and treat such illnesses and that it the attempt at a disclaimer was contradicted by explicit and implicit claims elsewhere.
Ainsworths tried to defend their leaflet.
They claimed the leaflet merely 'consolidated information' that would be given by a 'highly trained member of staff'. Ainsworths claimed that prophylaxis – the prevention of disease – was based on the founding principles of homeopathy and, as such, could be relied upon.
They stated that conventional vaccines 'rendered individuals more susceptible to chronic disease and more serious health problems than they were before receiving the vaccine.'
(This is a mainstream homeopathic view – that conventional medicines are a cause of disease – not a cure – and it is interesting to actually hear this spoken in a public environment, as it contradicts their claims to be 'complementary'. These beliefs are usually kept to themselves and only spoken to their clients after they have become followers.)
But most damningly, Ainsworths tried to claim that they had some sort of legal right to make such claims. The ASA said,
Ainsworths stated that randomised controlled trials were not required to support therapeutic claims for homeopathic products licensed (and issued with a marketing authorisation) by the Medicines and Healthcare products Regulatory Agency (MHRA). They had nevertheless considered it appropriate to inform readers that no clinical evidence existed to support the claims made for the products mentioned in the leaflet.

Ainsworths said homeopathy formed part of the NHS and that homeopathic products were licensed by the MHRA.

They advised that bibliographic evidence from traditional reference sources such as the Materia Medica was sufficient for the MHRA to license a homeopathic product.
This is an absurd twisting of the current legislation, and of the state of licenses that they hold,  in an attempt to justify themselves making unsubstantiated and dangerous claims.
However, it is quite true that the MHRA have given into lobbying from the homeopaths and others (more on this later) to allow a few homeopathic products to be licensed and make claims without robust evidence. The National Rules Scheme was introduced to allow homeopathic products to be licensed for mild, self-limiting conditions, such as teething or hayfever. In contrast with all other medical claims, the MHRA did not require evidence of efficacy for homeopaths to make these claims (again more on this later).
However, the fact that in some circumstances the regulator does not require good RCT evidence for homeopaths to make claims does not mean they have a free hand to make whatever claims they like. This is either utter incompetence or a casual disregard for the regulations.
The ASA upheld almost all the points in the complaint. They noted that when taking all the evidence into account there was nothing to support the use of homeopathy for any condition and that advising people that homeopathy offered an alternative to mainstream vaccines was irresponsible.
On the attempt to claim the approach of the MHRA allowed them to make evidence free claims, the MHRA were consulted. The MHRA responded to the ASA,
The MHRA stated that homeopathic products must be licensed before they could be advertised, even in leaflets which were available only at the point of sale. We were advised by the MHRA that unlicensed homeopathic products could be dispensed in registered pharmacies under the supervision of a pharmacist in certain circumstances but nevertheless considered that that was irrelevant in relation to the marketing of unlicensed homeopathic products.
It would appear that Ainsworths were not only making misleading claims but also selling products illegally by making medicinal claims for products without marketing authorisation from the MHRA. The ASA added on specific claims for specifically labelled sugar pills in the kit,
We considered that the claims made in relation to Chelidonium 6X, Ceanothus 6X and the "Anti-Bite Tincture" implied that those three remedies had a physiological effect on the body and were effective for the medicinal uses stated in the leaflet. We understood that these were natural substances that would be made into a finished product at a customer's request but we did not consider that this effected Ainsworths obligation to provide scientific evidence to substantiate the claimed medicinal uses; and they had not provided scientific evidence to support the claims made. Furthermore, we had not seen evidence from Ainsworths that they held an MHRA marketing authorisation for Chelidonium 6X, Ceanothus 6X or the "Anti-Bite Tincture".
These were not the only products that the ASA found Ainsworths were selling in breach of medicines regulations,
We noted that the MHRA had issued a marketing authorisation for Apis 30C but that there were no approved indications for the product [No claims could be made]. We considered that the product information given in the leaflet should therefore have been confined to what appeared on the product label. We had not seen evidence from Ainsworths that they held a marketing authorisation for Histamine 200x.
This is a business out of control. It is making dangerously irresponsible claims about medicinal products and does not appear to care whether it has the right licenses to sell and make those claims.
If this was a conventional pharmaceutical company, it would have been heavily fined and its directors jailed. As it is, Ainsworths is politely being asked by the ASA to behave. The ASA says,
We told Ainsworths to ensure in future that no marketing communications referred to serious medical conditions. We told them no medicinal claims should be made for unlicensed homeopathic products and that medicinal claims for licensed homeopathic products should not include indications other than those allowed by the MHRA marketing authorisation.
This is a business out of control. It is making dangerously irresponsible claims about medicinal products and does not appear to care whether it has the right licenses to sell and make those claims.
I somehow doubt this is going to stop Ainsworths. The Travel Kit is not the only product that appears to flout licensing laws. I complained to the MHRA several years ago – without major effect about various products. You can see on their web site, kits for childbirth for example. As well as rafts of pills that almost certainly do not have marketing authorisation – from homeopathic "dolphin sonar" and "rubella vaccine" to "mammary gland'", "ayers rock" and homeopathic "AZT"  How can this be so? How can a business be based on a marketing model that is in direct conflict with the law and yet somehow thrive.
A clue is perhaps seen on the leaflet itself. It is only a clue, but we ought to be deeply worried. Ainsworth holds a Royal Warrant to Prince Charles. What this means is that Ainsworth is a valued supplier to the royal family and is allowed to display this seal of approval on its products. It is a prestigious award designed to show excellence.
Charles is a notorious advocate for homeopathic quackery and cannot keep his mouth shut about his views despite the constitutional issues this raises. In the papers today, we saw Professor Edzard Ernst brand Charles a 'snake oil salesman' over his support for homeopathy and how his company Duchy Originals sells dodgy tinctures.
Professor Edzard Ernst has not been afraid over the years to 'tell it as it is' when it comes to alternative medicine. If he finds evidence that a treatment works, he will say so. But if the evidence suggests that a therapy is ineffective, he will not shy away from saying so too. In the field of alternative medicine research, this honesty is almost unheard of. And it has created enemies – most noticeably Prince Charles.
After Prince Charles tried to lobby government with a report he funded (with help from Dame Shirley Porter) into alternative medicine using a highly misleading approach, Edzard Ernst spoke out. In retaliation, the Private Secretary to Prince Charles wrote to the Vice-Chancellor of Exeter University, Professor Steve Smith, and Smith spent a year investigating Ernst before deciding not to fire him.
Over the past few weeks, we have witnessed how unaccountable power, through systems of favours and threats, can deeply undermine our laws and democracy.
Prince Charles has also lobbied the MHRA- the medicines regulator.The last major review of the  licensing regime for homeopathy in 2006 produced new regulations for marketing authorisation of homeopathic products, with the "specified aim of removing barriers to the expansion of the homeopathic industry". Professor Kent Woods, the Chief Executive of the MHRA said "This is a significant step forward in the way homeopathic medicines are regulated.
It was indeed, as what Kent Woods had done, for the first time in the history of the MHRA, was to put the interests of companies like Ainsworths ahead of its primary duty to ensure that medicines are effective and safe. The new regulations are what were being quoted by Ainsworths in defence of making its life threatening claims. Professor David Colquhoun said of the new rules,
Professor Kent Woods, should be fired immediately for dereliction of the duty of the MHRA to protect the public from medicines that don't work.
Over the past few weeks, we have witnessed how unaccountable power, through systems of favours and threats, can deeply undermine our laws and democracy. The Murdochs have been exposed. But Prince Charles wields similar powers for favour and punishment and, against our constitution, routinely uses them. The meddling prince is how he is known.
This Summer, Professor Edzard Ernst retires from his chair at Exeter saying that "his retirement two years early was the "price to pay" for the centre staying open". After his fight with Charles, he feels he no longer gets the support from the University.
Last month, the retired Vice Chancellor of Exeter University, Professor Steve Smith, was knighted.
And also last month, MHRA Chief Executive, Professor Kent Woods, was knighted.
Just saying.
****************************************************************************
Background on how the complaint was made can be found on Zeno's Blog.