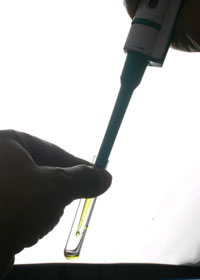 Let's jump off the deep end again with the Breakspear Hospital. Previously, we saw Dr Jean Monro using unproven allergy tests with highly questionable electromagnetic 'therapies' to treat food allergies. Recap: the Breakspear have started to suggest they can treat Electrosensitives. They have been accused of using highly unorthodox treatments for a whole range of illnesses.
Next up, a way of 'treating' allergies with their neutralising vaccines. I'll use their own words to describe what this is all about:
The technique employs intradermal skin tests of sequentially lower concentrations of antigens, until a wheal response that does not increase in size is obtained. This concentration of the antigen can then safely be used in regular low-dose desensitisation treatment.
So, basically, inject something that causes irritation at even lower doses until it stops effecting you and then daily inject you until you are cured. Could this possibly work? I guess there is some plausibility in that your body may begin to recognise something you were allergic too as being 'normal'. But, I wish they had left it there. Unfortunately, Dr Monro wants to share some evidence with us and to speculate on mechanisms. And this is where we descend into Scooby Doo world.
The Breakspear web site has a page that explains how antigen injections work, but it is more of an analogy than an explanation. Something about peacekeeping forces. But, there is a link to what looks like a scientific paper. What fun!
Well, its not clear where this was published or how it was peer reviewed so it may not be a scientific paper after all. It is entitled "Biological Effects of Neutralising Vaccines: the Effects of Weak Electromagnetic Fields and the Concordance between the Two". What have weak electromagnetic fields got to do with the price of fish? I am now seriously interested in where this is going.
It starts off with some 'Method' and references to previous researchers and describes how patients were injected with ever decreasing concentrations of 'harmful' foods. Lots of pretty graphs and I am beginning to get lost. Is it just me? Or is the paper starting to stop making sense? And the spookiness begins…
Obviously the solution had to be thawed before use and at this point serendipity played a part. Because the patients were eager to have their treatment, they began to hold vaccine tubes with frozen material in them. They began to evince symptoms similar to the symptoms they had when the material was injected. This was a puzzling phenomenon and it was thought that perhaps there had been a contaminant on the outside of the vials which were then washed and the patient given the vial to hold again. However, the same symptoms occurred, whether the material was frozen or thawed. It was then thought it was possible that they were reacting to cold, as it is known that cold can induce immunological responses, but the vaccines, when thawed and at room temperature, could have the same effect, even though contained in a vial.
So, let's get this straight. Without injecting anything – just holding the vials, eager patients were still experiencing the same symptoms as if you had injected them? I am now getting scared…
The glass containers were sent to the National Physical Laboratory with the enquiry as to what could be transmitted through the glass of the vials. The response was that there were frequencies that could penetrate the glass of the vials within the range of radio wave frequencies.
Wow, the National Physical Laboratory told them that radio waves could pass through glass! I could have told them that, otherwise I could not listen to Radio 4 in my conservatory.
Some more experiments were done before Dr Monro comes to the conclusions that, "it was clear that the interactive effect was an electromagnetic one penetrating through meshes but screened by solid metal plates.". Well, its either that or your experimental conditions are completely cock-a-hoop. But I guess, discovering completely new physics and biology is the much more reasonable explanation. No?
It's not long before we get deep insights about the world,
Biological systems use the same atoms and molecules as physical systems, and life has evolved in an atmosphere flooded with electromagnetic radiation. Simply described, the earth is an electromagnet with North and South poles.
We live and learn.
I guess you can see where this is going. Ever increasing dilutions, magic explanations – the only answer is homeopathy. Yep – "In view of these observations, it was decided to investigate homoeopathic dilutions and their effects on patients." Great.
And of course, homeopathic doses and holding vials in your hand all apeared to produce symptoms. And in conclusion? The 'paper' notes:
There is an absolute concordance between neutralising vaccines, electromagnetic fields and homoeopathy. Each impinges on recognition systems in the individual which have a final common pathway and can produce identical symptoms or nulify these symptoms. The response of these influences cannot be a cumbersome immunological action as recognised by antibody responses as the responses are very swift. It must therefore lie in the chemical sphere with such delicate mechanisms as the endorphin system or intracellular memory such as cytokines.
So there we have it. Did that make sense? Please leave comments if you can make head or tail of this gobbledegook.
Dr Jean Monro is a real doctor and is registered with the GMC.