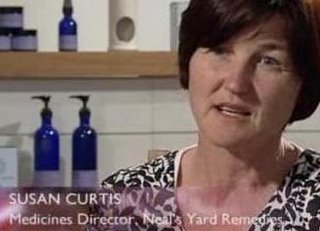 Unbelievably, nearly two years after BBC Newsnight exposed ten homeopaths offering dangerous advice to travellers about malaria protection, the BBC have found high street chain Neal's Yard Remedies offering sugar pills as protection against malaria.
The BBC, in a press release, said,
The presenter of [BBC] Inside Out South West Janine Jansen was sold homeopathic remedies by the manager of Neal's Yard in Exeter and was advised that she could use them to help deal with malaria.

This is quite an extraordinary happening. The BBC first exposed the dangers of unregulated homeopaths offering lethal malaria advice on their Newsnight programme. The Society of Homeopaths, the largest members club in the UK, refused to discipline or even condemn any of its members caught out. Furthermore, it refused to offer proper guidance to homeopaths on this subject. What it did do was legally threaten me when I pointed out their lack of action, it issued guidance to its members to keep their mouths shut when answering queries about this, and issued thoroughly misleading press statements saying why it took no action.
Nonetheless, an enormous amount of bad publicity was generated and it cannot have gone unnoticed at Neal's Yard Remedies.
Neal's Yard is a very well known brand in the UK with operations now in Japan and the US. Founded in the trendy and touristy Covent Garden area of London, it is well known for its bath and shower products. It also thinks it is in the medical and healthcare market. Its web site shows it offering all sort of herbal and homeopathic remedies as well as in-store therapies. For example, it says it can offer Hopi Ear Candling and tells the fib that that it is "a traditional healing technique of the Native American Hopi Indians".
Neal's Yard Remedies is offering a Malaria 30C Homoeopathic Remedy on its web site. This is again breathtaking. In the past, people like Professor David Colquhoun have exposed the 'wicked scam' of such products, often sold overseas. We now see such products on the high street in the UK. A local newspaper has picked up on the story and interviewed Nicola Gillespie of Neal's Yard in Exeter who said, "Homeopathy can be used for that (treatment of malaria)", but then confusingly added, "We are not going to say they can prevent people from getting malaria".
Let's be quite clear. There is not a shred of evidence to suggest that homeopathic sugar pills can prevent or cure malaria. The suggestion is utterly implausible and is no different from witchcraft. Dr Ron Behrens, the Director of the Hospital for Tropical Diseases Travel Clinic in London, said
making claims that homeopathic remedies can prevent or treat malaria was potentially highly dangerous and it puts people's lives at risk.
Dr Peter Fisher, the Director of the Royal London Homeopathic Hospital and the Queen's Homeopath, has previously said about such advice,
I'm very angry about it because people are going to get malaria – there is absolutely no reason to think that homeopathy works to prevent malaria and you won't find that in any textbook or journal of homeopathy so people will get malaria, people may even die of malaria if they follow this advice.
Unfortunately, whilst Dr Fisher is absolutely right that people will get malaria if they follow such advice, he is wrong that you cannot find it in homeopathic textbooks. I founnd a book in my local bookshop this afternoon carrying this crazy nonsense. Rob Hinkley at SemiSkimmed has written about this in detail in response to this story.
We can perhaps understand Neal's Yard's position here when you appreciate that their 'Director of Medicine', Susan Curtis, has herself written a book entitled, Homoeopathic Alternatives To Immunisation, which is promoted as,
An invaluable guide for all travellers. This book contains practical information on preventing and treating major infectious diseases, including hepatitis, flu, malaria, measles and whooping cough.
Staggering. All these diseases are killers, especially in poorer countries, and if you were a traveller, you would want prompt and good medical care. Susan is a Member of the Society of Homeopaths. Their code of conduct expressly forbids them from stating or implying that they can cure named diseases. However, we know that the SoH will never discipline any of its members or fellows for doing so. We cannot look to homeopath's 'professional' bodies to stamp out this insanity.
According to Healthwatch, Susan Curtis has no medical training. She was interviewed by the BBC but walked out after 15 minutes in a bit of a huff. The interviewer had to yell after her to ask if what she was doing was criminal. On the programme, Professor Edzard Ernst, Britian's only holder of a chair in CAM, said,
It's awful. I would not hesitate to call this criminal. I don't know whether this is legally criminal but, in my view, this is so amoral and unethical that I would not hesitate to call it criminal.
This statement stands in stark contrast as to how Neal's Yard likes to portray itself as 'the ethical brand'. It won the Sunday Times 'Best Ethical Brand' last year. Will it put itself forward this year?
Curtis is well aware that there is no scientific evidence to suggest that magic sugar pills have any role in preventing or treating malaria. She is able to justify the sale herself by suggesting there is 'evidence by extension'. What this means is that homeopaths 'know' homeopathy works. They do not need real and direct evidence. They can just 'extend' their delusions in any direction they wish. Criminal? Definitely, irresponsible beyond belief.
One area of law breaking that does need to be fully explored is to see if Neal's Yard Remedies are in breach of the MHRA rules on medicines. Homeopaths have recently been given special dispensation to tell lies on the labels of their products, but as long as it is only for minor illnesses and after they have submitted a 'dosier of delusions' to the MHRA. The BBC have passed on their evidence to the MHRA to see if an offense has been committed. There are two possibilities – Neal's Yard are selling such products without a license; the MHRA have given a license (which I doubt). Both would be a disgrace.
In the meantime, what will Neal's Yard do? On their web site they say their values are to "take great care to be responsible in everything we do." The only responsible thing to do right now would be to fire their Medicines Director, Susan Curtis, withdraw their homeopathy products, conduct a thorough review and get back to the business of selling perfumed bathroom products.
Something tells me this will not happen.
*********************************************************************
A full transcript of the programme is now available at Thinking Is Dangerous.
See the follow up post to this at "Neal's Yard Ethical Bullshit Remedy."
And how the MHRA has clobbered them.
*********************************************************************