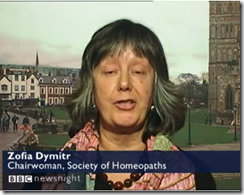 As I reported in December, various homeopathy groups from the UK have held a conference, hosted by a PR firm, in order to develop a 'single voice' in the face of criticism of their trade.
One of the results of that conference was a 'Media Code', a set of rules designed to help homeopaths present their views to the media.
Recent attempts to defend their practices have been pretty disastrous, as typified by the Chairwoman of the Society of Homeopaths, Zofia Dymitr's, stumbling performance on BBC Newsnight.
Now, a version of that Media Code has leaked out, and I am sure they will not be happy about it as it shows how they intend to be less than straightforward about their beliefs.
The Homeopathy Action Trust.

Media code for homeopaths February 2011

In the face of increasing media attention, the profession urgently needs to
ensure media appearances by homeopaths are clear, concise and on message.

Following a meeting where all the professional organisations were represented,
(including the Faculty and the BHVA,) the Homeopathy Action Trust (HAT) has
facilitated the development of a media code. In the interests of our profession,
all homeopaths are asked to comply with this code.

HAT is supporting the development of a strategy comprising a professional
press campaign of positive information about homeopathy, and a coordinated and
consistent approach to negative press, which will involve trained media
spokespeople representing homeopathy effectively.

By being a lone voice, speaking inadvisably, you might risk damaging your profession. We therefore ask you to support the following code:

Homeopathy is a safe and effective form of medicine; it can be used safely
alongside conventional treatments
Homeopathy alleviates symptoms and improves the general health of the
patient.
When reporting cases that responded to homeopathy, avoid making any claims
for cure or prevention of specific diseases.
There are no homeopathic vaccinations as alternatives to conventional immunizations (avoid being drawn into public debate about homeopathic
prophylactics, but where appropriate refer to historical examples or
ground-breaking research such as the recent Cuban study on Leptospirosis)
Homeopaths support other health professionals and discuss care strategies
with them, whilst avoiding unilateral changes to patients medical
management.
Please refer ALL media requests to your professional body, where they will
be addressed by trained media spokespeoplePlease do not engage with the sceptics and denialists in the media, on
social networking sites, or in person. All attention energizes their misinformed
rhetoric.
The first couple of points simply assert that homeopathy is effective. Of course, this is the central point at issue in the debate. The code gives no advice about how a homeopath might justify this statement.
The third point then suggests to homeopaths that they should not claim homeopathy can cure specific disease. So, despite claiming its success, homeopaths cannot state for what conditions it is successful. This is a standard tactic of homeopaths to appear reasonable and not allow themselves to be pinned down. Indeed, the code of practice of the Society of Homeopaths forbids them from making such claims. However, this point is routinely flouted by homeopaths who will make all sorts of claims to their customers – the media is treated differently.
The next point looks very deceitful to me. Whilst homeopaths do not offer 'vaccinations', they do offer alternatives to this, routinely. It is standard dogma for homeopaths that vaccinations are harmful and should be avoided. Homeopaths offer alternatives to injections which are completely ineffective, as was exposed by BBC Scotland last year. Again, the Society of Homeopaths is unlikely to do anything about this given the beliefs of their Directors.  Homeopaths do not want to talk about this issue as they know it is deeply embarrassing and the main focus of much of the criticism of homeopathy, especially when such 'vaccines' are offered to Africans for the prevention of malaria, HIV and TB.
The Cuban Leptospirosis study was a trial without any control group and has been shown to be completely inadequate for demonstrating the effectiveness of homeopathy for the prevention of disease. This trial is mere propaganda.
We also have to take the claim that "homeopaths support other health professionals" with a very large pinch of salt. Homeopathy is defined by its opposition to 'Allopathy' – what you and I call 'medicine'. It asserts that 'Allopaths' use dangerous chemicals to 'supress' symptoms, thus allowing disease to resurface more aggressively and create more money for doctors. The denigration of mainstream medicine is routine and I have uncovered how homeopaths are taught to mislead doctors as to their true motives when treating notifiable disease.
We also see a plea for homeopaths not to engage with their critics. They call their critics 'denialists' – which is rather ironic.
Of course, homeopaths need to engage. The criticism made of them is very serious –life and death. The Homeopathic Action Trust, the organisation releasing this code, is a charity that funds homeopaths to go to Africa and conduct seriously unethical and dangerous trials on people to see if sugar pills can treat HIV and malaria. Until such time as homeopaths take action on such irresponsible and (frankly) murderous behaviour, they can expect 'media attacks' to continue.
This media code is amateurish, deceptive and will be ultimately inconsequential. The main reason for this is that homeopaths are not setting the agenda. Their critics are using social media, newspapers and television rather effectively for a ragbag group of nerds. Homeopaths will always be on the back foot and trying to avoid the serious questions will just end up with more embarrassment, such as the Newsnight programme mentioned above.