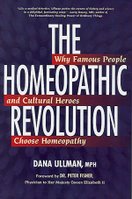 There can be few comment-enabled web pages left in the world that do not testify to the fact that Dana Ullman has published his latest book: The Homeopathic Revolution: Famous People and Cultural Heroes Who Chose Homeopathy. His claim for the book is that,
It is a project that may actually change the face (and the heart) of medicine and may make homeopathy a household word.
Dramatic stuff.
I have written about the book before, a few months before publication. This was because Ullman was making claims that I found incredible. Wherever you find a promotion for the book, you will find the claim that Charles Darwin was saved by homeopathy and this allowed him to publish the Origin. Ullman goes further and says that Darwin was an advocate of homeopathy. This was going to be easily verifiable, as all of Darwin's letters and writings are available online at the Cambridge Darwin Correspondence Project.
So, I did check, and I wrote about my findings at some length. And what I found was that Darwin did nothing but ridicule homeopathy and made it very clear that he thought it was nonsense. Darwin did, at times, take homeopathic remedies. But only when convalescing at a spa near Malvern where the resident doctor made all his patients take the pills. But Darwin did this 'without an atom of faith'. It was quite clear that it would be difficult to reconcile Ullman's statements with Darwin's own stated beliefs, and it looked like we were seeing nothing but the usual homeopathic propganda.
As you might expect, Dana Ullman took exception to my analysis and claimed I had missed many references, that I was superficial and undertook inadequate scholarship, that I was partial in my quotations, and my analysis contained misinformation. He emailed me to say "my research on Darwin [has] surpassed yours by a significant degree" and,
I sincerely hope that you are a good enough man (or duck) to admit that you MAY have been a bit too rash in your previous comments. People will TRUST you more if you admit that you were wrong about something. I realize that this tends to be rare amongst quackbusters, but perhaps you are different.
Now, to be fair, I was not reading from Ullman's book – it had not been published yet – only wondering how he came to such conclusions for his promotional material. So, out of courtesy, I got hold of a copy, read it, and now am in a position to give a fuller review and see if Ullman's own evidence stands up to scrutiny.
Charles Darwin
So, let's start off with Dana Ullman's coverage of Charles Darwin.
The first mention of Darwin is in the Introduction. Ullman obviously thinks Darwin is central to his thesis. He starts off by saying that Darwin had great admiration for his homeopathic doctor and his treatments, "though these facts are scandalously missing from the history of medicine and science". Later, in the chapter on Physicians and Scientists, Ullman devotes ten pages to Darwin and homeopathy. Now, given Ullman's denunciations of my analysis of Darwin, I was expecting a lot of significant material that I had missed. But, it is just not there. However, there is a lot of insignificant material, a lot of jumping to conclusions and unsubstantiated speculations. This appears to be the greater scholarship that Ullman alludes to.
So, Ullman readily admits that Darwin was openly scathing about homeopathy and that he never attributed any of his health improvements to homeopathy. The evidence for this is overwhelming. Nonetheless, Ullman claims that Darwin's healthier moments during his long illness could be attributed to homeopathy. Ullman provides no evidence for this assertion. Darwin did suffer a long standing illness. The illness was sometimes totally debilitating, and regularly he experienced periods of remission. One time he got better was when Darwin was recuperating at Dr Gully's hydrotherapy spa. Now because Dr Gully gave Darwin homeopathy remedies, Ullman then contends that the homeopathy caused Darwin's health improvements.
This is nothing other than the same systematic logical mistake that all homeopaths make – post hoc ergo propter hoc – "after this, therefore because of this". Just because one event follows another does not mean that one event caused another. The entire foundation of homeopathy is built on this logical fallacy, and Ullman makes no allowance for it. The nature of Darwin's illness is unknown; many have speculated as to what it was, from an illness picked up in South America to purely psychosomatic illness. Therefore, to make any assessment of how Darwin's illness should have progressed is to overstretch our knowledge of that illness. The fact that Darwin felt better after spending time at a relaxing spa should not surprise us. Ullman, however, finds it difficult to conceive of any explanation beyond a homeopathic cure.
One part of Ullman's analysis I thought was particularly misleading. He says,
After just a month of treatment, Charles had to admit that Gully's treatments were not quackery after all.
I emailed Dana to ask for a reference for this and to state how he came to this conclusion. He did have a reference, but it was quite clear that Darwin was talking specifically about the hydrotherapy treatments and made absolutely no mention of homeopathy. Darwin's opinions of the sugar pills appears to have been steadfast.
Ullman goes on to explore an area I did not; that is Darwin's research on the response of the insectivorous plant Drosera (sundew) to dilute ammonia salt solutions. Darwin was shocked at the response of the plant's tentacles to ever increasingly dilute solutions. Ullman pounces on this as proof of Darwin wanting to research homeopathic solutions. There are three things wrong with this: one, Darwin never says anything about his research being homeopathic in nature; two, homeopaths tell us that dilute solutions are not homeopathic – succussion is necessary (apparently); and thirdly, the solutions are still light by homeopathic standards – homeopaths dilute beyond the point that the original chemical will be present. Ullman makes a similar error on his own websites and elsewhere in his book when he calls homeopathy the science of nanopharmacology. Now diluting to the nano level (a billionth) is still well within the realms of standard analytical physical chemistry. Measuring dosages at the nano-mole level is now standard laboratory practice. Homeopathic dilutions make nano doses look positively gargantuan. I have no idea why Ullman wants to insists on such terminology when it is so obviously misleading.
Darwin was shocked at the results of his dilution experiments, not because he thought that it confirmed homeopathy, but because he did not expect such dilute substances to have such a dramatic effect. This was new science and he was instinctively cautious. Darwin wanted to replicate his own work and confirm his findings. He doubted his own experience, experiments and capabilities and made doubly sure he was not deceiving himself. This is something that homeopaths could learn from.
And on to Ullman's worst crime in this chapter. Ullman insists that Darwin was a supporter of homeopathy despite all the evidence to the contrary and he does this by asserting that he was afraid of what this peers would think if he said such a thing. Ullman does not present any evidence to back this up. I find this a terrible besmirchment of Darwin's character. One thing that you cannot say about Darwin was that he was unduley cowered in the fear of what the establishment might think of him. He did not launch his theory of evolution into a compliant and accepting orthodoxy. Darwin had to win over his scientific peers, the establishments of church and state, and society as a whole, through sheer strength of argument alone. Darwin was well aware of the implications of his work and how that might threaten the established view of a natural world created by a benevolent god. It took courage and much deliberation to take on this worldview and it is inconceivable that Darwin would quibble over a trifle such as homeopathy even if he did believe in it. No, Darwin knew homeopathy was nonsense. All the evidence points to that. Any other conclusion is just perverse.
Adolf Hitler
For me, in his treatments of Darwin, Ullman looses all credibility in his analysis. It would be enough to stop here in this review, but his analyses of Adolf Hitler is in some ways even more perverse.
Now, Ullman's book is about famous people and cultural heroes. Obviously, Ullman does not see Hitler as a cultural hero and he makes this clear. But in doing so, he then feels it necessary to show that Hitler was not an advocate for homeopathy and never benefited from it. But again, this is in the face of contradictory evidence that Ullman himself presents.
In the chapter Politicians and Peacemakers, Ullman describes how Hitler took nux vomica and belladonna, two staples of every homeopath's pharmacy, every day for nine years up to his suicide. Unlike Darwin, Hitler was convinced that these pills were saving his life. Now, to get around the rather nasty conclusion that this supremely evil man was a supporter of homeopathy, Ullman tells us that it was unlikely that Hitler's pills had undergone the proper dilution and succussion process, and were therefore not properly homeopathic. This contrasts rather starkly with Ullman's insistence that Darwin's simple dilutions were part of some homeopathic experimentation.
But the rather nasty conclusion is, and at risk of invoking Godwin's Law, that the Nazi state was rather enraptured with homeopathy. It would be surprising if it was not. German nationalism latched onto all sorts of mystical and distinctly Germanic notions during these terrible decades. The fact that homeopathy was of German origin no doubt had some bearing on its adoption by the various Nazi doctors in attendance to Hitler. Ullman insists that the pattern of prescribing remedies to Hitler did not match standard homeopathic practice, but one must also take into account that Hitler's doctors would also have done anything the Führer desired. These were not standard prescribing times.
It is difficult to come away with any other impression that Ullman is twisting his own presented evidence to reach whatever conclusion he chooses. If there is any credibility left, it is dashed when you note that one of the sources that Ullman references for his information on Adolf Hitler is the discredited historian David Irving.
'No Smoke Without Fire'
After looking at these examples, it is difficult to take any of the biographical details and conclusions seriously. But in a very important regard, this is utterly immaterial because it does not matter one jot what Darwin or Hitler thought about their experiences with homeopathy. Their opinions do not prove or disprove whether homeopathy is nothing but nonsense.
In order to judge Ullman's book, we ought to see if Ullman succeeds in the task he sets himself. The subtiltle of the book is Why Famous People and Cultural Heroes Choose Homeopathy? Does Ullman answer this question? In short, no.
Ullman assumes the answer from the start, and it is the answer of the commited homeopath – that homeopathy is a powerful healing force. And so in doing so, he fails to address the obvious problems with taking a string of historially based anecdotes. In looking at peoples accounts of homeopathy, you have to take into account the various ways in which people might acquire mistaken beliefs. Ullman does not do this and so we have no way of weighing the importance of this mass of ancdotes.
Even homeopaths do not deny that people are subject to a placebo response when taking medicines. This can be personally interpreted as a positive healing response to an otherwise inert pill. Also, many illnesses, being cyclical in nature, allow natural disease remissions to be attributed to the cure. This is almost undoubteldy what was going on in Darwin's case. When he was at his worst, he went to see Dr Gully. Any subsequent improvement would be attributed to whatever Dr Gully was doing – Darwin thought it was the hydrotherapy; Ullman the homeopathy. There are other ways of being fooled, of course. There is no need to go into them here. The point is that Ullman should have considered them in detail in his book if he wants us to take his mass of anecdotes as serious evidence. The fame and celebrity of Ullman's cultural heroes make no difference to the importance of these subjects' beliefs. If one person can hold a mistaken belief about a healing experience then so can thousands of others. Mere numbers make no difference. It does not enhance the quality of the evidence in anyway. A common delusion can produce millions of the deluded.
This point is noted by the writer of Ullman's foreward, Dr Peter Fisher, Clinical Director of the Royal London Homeopathic Hospital, when he says,
Of course, the fact that the extraordinary range of talented, intelligent, and independent-minded people depicted in this book benefited from homeopathy does not represent a scientific argument.
I would agree fully, but maybe just caveat that these people believed they benefited. But rather bizarrely, Fisher then immediately says,
"but, it is a strong 'no smoke without fire' argument".
This sounds so out of place for a man who considers himself to be a man of science. It is the talk of gossiping schoolgirls in an unsupervised playground. Of course there can be smoke without fire. It is entirely possible for large numbers of people to hold entirely mistaken beliefs, even intelligent celebrities and politicians. And so, this book has the significance of the nauseating and suffocating mobile wedding disco smoke machine, designed to hide the balding uncoolness of the past-it DJ. The book is a 400 page fig-leaf and Ullman is using his celebrity gossip and bizarre interpretations to obscure the embarrassing lack of convincing evidence that would show us homeopathy is nothing but a discredited philosophy, practiced by scientifically illiterate narcissists, using inert sugar pills.
As such, this book is not going to 'change the face and heart of medicine'. It is of interest only to those who want their prejudices confirmed and their delusions massaged. To really understand why so many people can so easily be sucked into the irrationality of alternative medicine is going to take another book. There may be a few of those along soon.
************************************************************************************
See also Orac's review of excerpts from the Homeopathic Revolution.